Porterville-based Heart Care is Now Nationally Recognized
A clinical team at Sierra View Medical Center's Cardiac Catheterization Lab (cath lab) has doubled the number of patients it cares for in the last year. In July of 2020, Porteville's only cardiac cath lab became licensed to perform Percutaneous Coronary Intervention (PCI) by the California Department of Public Health (CDPH), allowing the team to move from diagnostic care to performing interventional procedures. At that time, the cath lab also became approved to perform lifesaving pacemaker procedures and joined the American College of Cardiology (ACC)'s CathPCI Registry. By July 2021, the cath lab team had performed more than 100 stent procedures and has doubled the number of cardiac patients it serves from about 200 in 2020 to more than 400 to date.
National Recognition
Sierra View's cath lab submits quality data into the ACC's National Cardiovascular Data Registry (NCDR) and was listed in the 2022 U.S. News & World Report "Best Hospitals" guidebook released on September 14, 2021, which recognizes all hospitals and facilities that participate in the NCDR registry. According to the ACC, "[p]atients and caregivers can trust that the hospitals, health systems and centers participating in NCDR and ACC Accreditation Services." Porterville patients receiving heart care and undergoing cardiac procedures at Sierra View's cath lab can do so with confidence that the quality of care they are receiving close to home aligns with nationwide standards for safe, high-quality care. Learn more by visiting https://www.acc.org/latest-in-cardiology/articles/2021/09/13/16/40/all-hospitals-participating-in-ncdr-acc-accreditation-services-featured-in-202-us-news.
Quality Metrics
The cath lab is currently pursuing Cardiac Cath Lab Accreditation with the ACC. "Everything about the work we're doing to become accredited aligns with Sierra View's vision to promote access and care coordination for local patients," says Director of Cardiac Cath Lab and Interventional Radiology Torri C. Lee, MSN/ED, RN. To gain accreditation, the cath lab is required to participate in the NCDR CathPCI Registry. The tool helps organizations assess the outcomes of cardiac patients receiving diagnostic catheterization and/or percutaneous coronary intervention (PCI) procedures. Community members can expect Sierra View to regularly track approximately 165 indicator questions for each patient, all while maintaining the utmost confidentiality of patient information. Key documented information includes: patient history, demographics, cath lab visit notes, coronary lesion information, provider and facility characteristics, documentation from 30-day and 1-year follow up visits, and COVID-19-related notes. This diligent work is allowing the cath lab team to focus on proven practices, quality improvement, and best processes for patient care before, during and after procedures.
Heart Care Close to Home
Sierra View's Cardiac Catheterization Lab offers patients in the South Valley (Porterville and surrounding communities) diagnostic and preventative services and interventional services all within the city's centrally located hospital healthcare district facilities. 90% of the procedures are same-day, with many cardiac care patients going home only hours after receiving life-saving care. For patients of the emergency department at Sierra View, having expanded heart care services in the hospital means that already a handful of heart attack patients have safely been transferred from the emergency room to the cath lab for lifesaving treatments. In situations where patients need a higher level of care, Sierra View continues to transfer patients as needed.
Diagnostic and Interventional Services currently include:
Left and right heart catheterization to diagnose or treat conditions
PCI Stent Procedures: Coronary and peripheral stents
Permanent pacemakers
Implanted defibrillators
Carotid angiography
Pericardiocentesis
Cardioversion
Transesophageal Echocardiogram
High-Tech Equipment w/ Cutting-Edge Technology
Latest imaging equipment
Top-of-the-line software integrated to medical records software
Patient comfort maximized
Heartfelt Community Efforts
The Cardiac Catheterization Lab opened its doors on June 13, 2017 as a result of decision-making led by the Sierra View Local Healthcare District (SVLHD) Board of Directors, Sierra View leadership and physician insights as to the future of health care in Porterville. "Knowing we have the support of board members to bring much-needed cardiac care to the South Valley helps fuel our commitment to living our values of compassion and accountability," says Sierra View Medical Center CEO/President Donna Hefner. "Each time we can offer just one more way to save or improve lives, it's a truly heartwarming feeling as a local leader."
A high degree of collaboration throughout the healthcare district and Sierra View Medical Center hospital's clinical and support teams is what has helped make cardiac care more accessible to the South Valley. The cardiac cath lab now directly supports patients from Porterville, Springville, Terra Bella, Ducor, Poplar, Woodville, Springville, Lindsay and more. It also welcomes patients from Exeter, Visalia and from any place patients are able to travel to Porterville.
Local Cardiologists Seeing Patients in Porterville
For physicians like Cath Lab Medical Director Dr. Ashok Behl, MD, a board-certified cardiologist and an elected SVLDH Board Member, seeing services expand at the cardiac cath lab he helped bring to the area is extremely satisfying. "It took a long time to get it done," says Dr. Behl, "we just had to be persistent." And persistent he was. Dr. Behl performed Sierra View's first pacemaker procedure in 2020. That same year, cardiologist Dr. Bindusagar Reddy, MD performed the first ever PCI stent procedure in Porterville at the hospital. Dr. Reddy previously averaged more than 250 such procedures annually performed outside of Porterville and by this time next year, that number will grow with the addition of the procedures now being performed locally.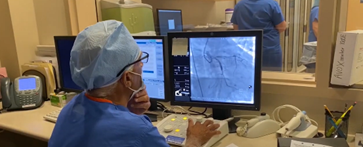 Cardiologist Ashok Behl, MD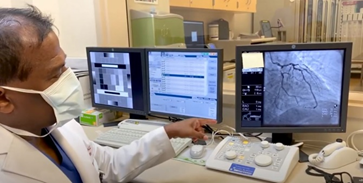 Cardiologist Bindusagar Reddy, MD-FACC
A key benefit to patients undergoing stent procedures in Porterville is that they no longer need to travel to Bakersfield or Visalia to receive that type of care. The list of local cardiologists heavily involved in the project include: Dr. Ashok Behl, MD; Dr. Bindusagar Reddy, MD-FACC; Dr. Nallathamby Thayapran, MD-FACC; and Dr. Ankur Gupta, M.D.
| | | | |
| --- | --- | --- | --- |
| Ashok Behl, MD | Bindusagar Reddy, MD-FACC | Nallathamby Thayapran, MD-FACC | Ankur Gupta, MD |
First PCI Stent Procedure: Patient Douglas Gable, with Cardiologist Bindusgar Reddy, MD
Patient Story available at: https://youtu.be/RqUIEI5OXZU
Cross-Trained to Support Local Heart Care Patients
The clinical team supporting Porterville cardiologists is led by Director of Cardiac Cath Lab and Interventional Radiology Torri C. Lee, MSN/ED, RN. "The team works collaboratively and there is a true culture of learning and helping each other," says Lee. The team consists of one Charge Nurse (RN), eight Registered Nurses (RNs) and four technologists. Of the dozen team members, the majority speak Spanish, and are cross-trained to help deliver not only cardiac services but also interventional radiology (IR) services.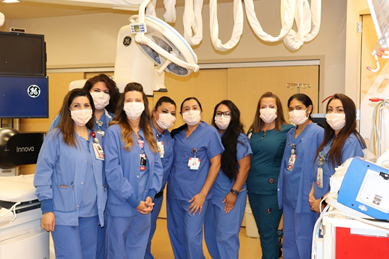 How to Seek Heart Care Locally
Patients looking to enjoy the latest in cutting-edge cardiac treatments available at Sierra View Medical Center may work with their primary care providers and cardiologists for a referral to Sierra View Medical Center. For a list of all other services available to the community through Sierra View Medical Center, please visit https://www.sierra-view.com/hospital-services/.