COVID Vaccines
Lea esta información en español.
COVID Vaccine Clinic Schedule
Please check back weekly for the latest schedule.
Location: 385 Pearson Dr., Porterville, CA 93257
Schedule: AUGUST: Thursdays - Saturdays (9 a.m. to 6 p.m.)
Available vaccine: Pfizer. Children (12 years and up) and adults are eligible.
Walk-Ins Welcome. However, appointments may be scheduled at: myturn.ca.gov
Immigration status does not matter.
Minors must be accompanied by a parent or legal guardian.
Porterville's Vaccine Round-Up $100 Gift Card Giveaway (Friday, August 27, 2021)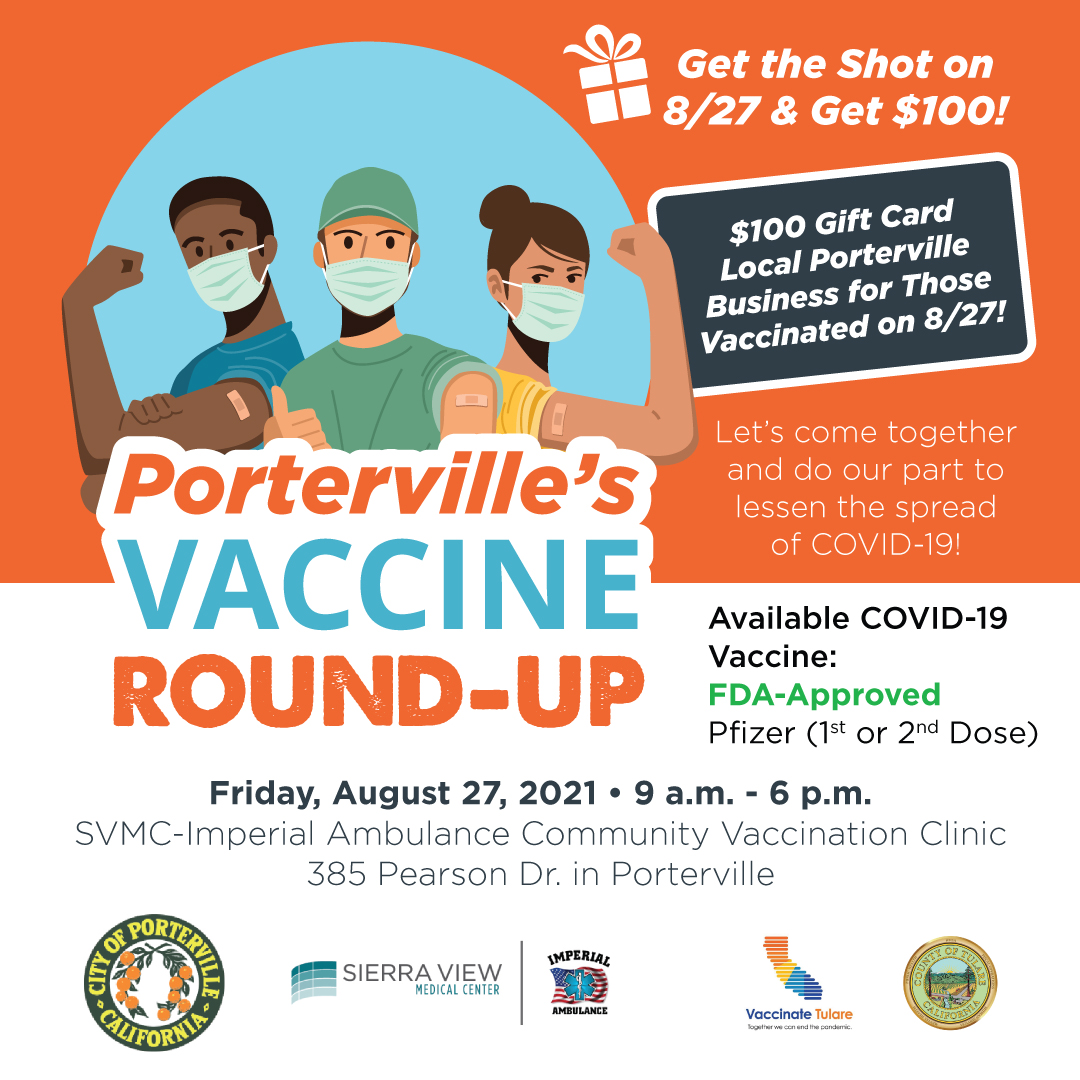 About the Community Vaccination Clinic
Sierra View Medical Center and Imperial Ambulance have partnered with Tulare County Health & Human Services Agency (TCHHSA) to increase COVID-19 vaccinations in our community. The vaccination clinic is located at Porterville Veterans Memorial Building.
COVID Vaccine Safety
COVID-19 vaccines are safe and effective.
You may have side effects after vaccination, but these are normal.
It typically takes two weeks after vaccination for the body to build protection (immunity) against the virus that causes COVID-19. You are not fully vaccinated until 2 weeks after the 2nd dose of a two-dose vaccine or two weeks after a one-dose vaccine.
People who have been fully vaccinated can start to do some things that they had stopped doing because of the pandemic.
Questions? Please let us know. Email marketing@sierra-view.com or call 559-791-3843.