Vacunas Contra el COVID
View this in English.
Horario de la Clínica de Vacunas Contral el COVID
Por favor regrese a esta página semanalmente para ver el horario más reciente.
Ubicación: 385 Pearson Dr., Porterville, CA 93257
Itinerario: AGOSTO: Jueves a sábado (9 a.m. to 6 p.m.) Vacuna disponible: Pfizer. Niños (12 años y mayores) y adultos son elegibles.
Available vaccine: Pfizer. Children (12 years and up) and adults are eligible.
¡SIN CITAS BIENVENIDOS! Para programar una cita, visite: MYTURN.CA.GOV
El estatus migratorio no importa.
Menores deben estar acompañados por un padre o tutor legal.
¡Vacunate Porterville! Evento de vacunas y tarjetas de regalo de $100 (Viernes, 27 de agosto de 2021)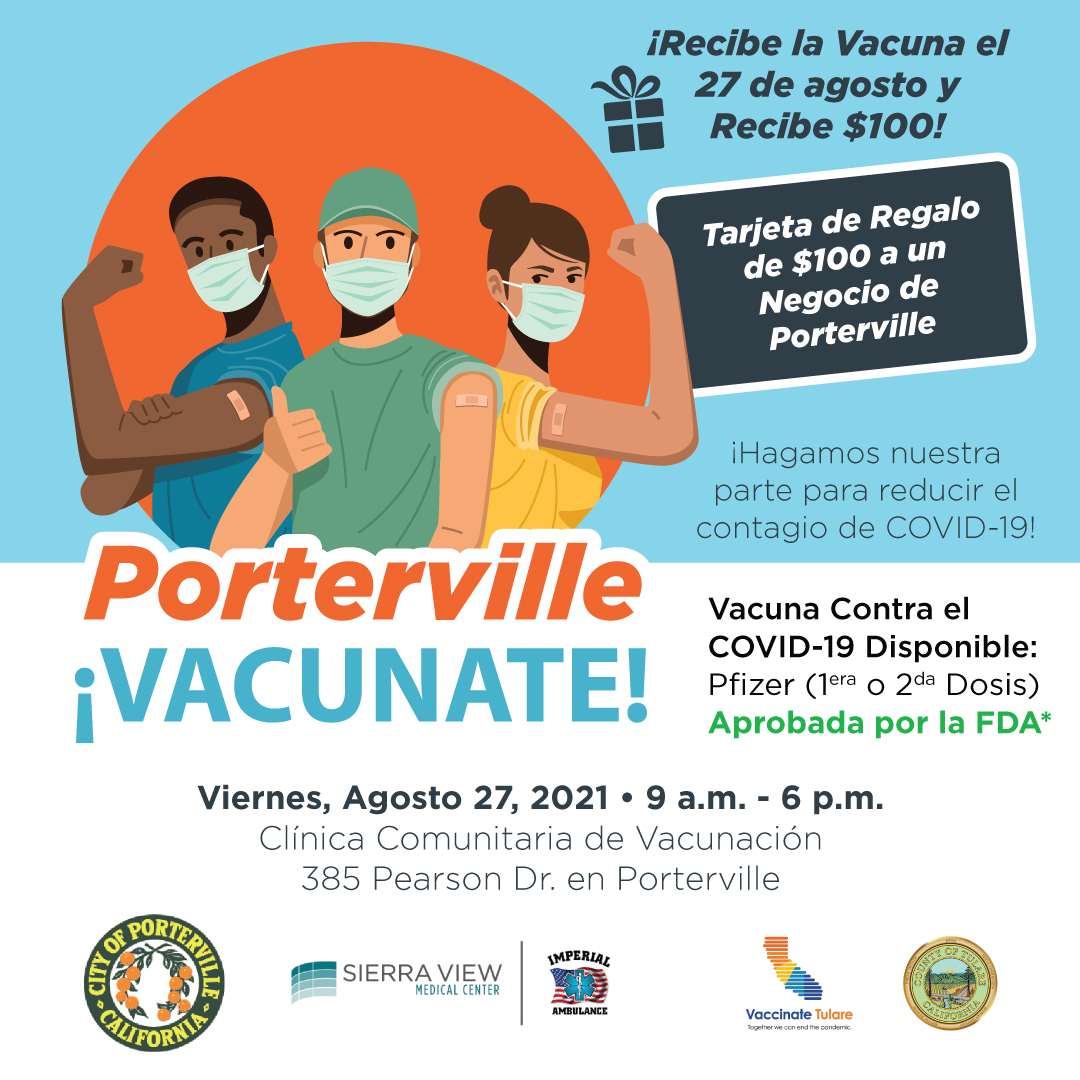 Acerca de la Clinica de Vacunas
Sierra View Medical Center e Imperial Ambulance se han asociado con la Agencia de Servicios Humanos y de Salud del Condado de Tulare (TCHHSA) para aumentar las vacunas contra el COVID-19 en nuestra comunidad. La clínica de vacunación está ubicada en Porterville Veterans Memorial Building.
Seguridad de la Vacuna Contra el COVID
Todas las vacunas contra el COVID-19 disponibles en la actualidad en los Estados Unidos son efectivas para prevenir el COVID-19, tal como se observó en los ensayos clínicos.
Las investigaciones aportan cada vez más evidencia de que las vacunas contra el COVID-19 de ARNm ofrecen una protección similar en condiciones de la vida real.
La vacunación contra el COVID-19 es una herramienta importante para ayudar a detener la pandemia del COVID-19.
Vacunarse contra el COVID-19 ayuda a las personas a protegerse de contagiarse o de enfermarse gravemente a causa del COVID-19, y también podría ayudar a proteger a las personas que las rodean.
Para que la protección sea máxima, las personas deben recibir todas las dosis recomendadas de una vacuna contra el COVID-19.
Algunas personas con la vacuna completa contra el COVID-19 pueden enfermarse, porque no existe ninguna vacuna con un 100 % de efectividad. Los expertos continúan monitoreando y evaluando la frecuencia con la que esto ocurre, la gravedad de la enfermedad y la probabilidad de que una persona vacunada contagie el COVID-19 a otras.
Los CDC recomiendan que se vacune contra el COVID-19 apenas haya una vacuna disponible para usted.
¿Preguntas? Por favor déjanos saber. Envíe un correo electrónico a marketing@sierra-view.com o llame al 559-791-3843.