Innovative Company Behind Renovation of the Roger S. Good Cancer Treatment Center Recognized for Outstanding Architectural Design
The Sierra View Medical Center Roger S. Good Cancer Center's striking patient entrance, waiting room, overall functionality, and relaxing atmosphere, has landed Darden Architects the 'Award of Honor' for Architectural design in the Healthcare project category. This award was presented at the American Institute of Architects (AIA) San Joaquin Chapter Bi-Annual Design Awards event.
"On behalf of the Darden Architects, I would like to thank the Sierra View Medical Center Facilities Staff, Senior Management, and the Board of Directors for the opportunity to work on this exciting project," said Darden Architects Associate and Project Manager, Michael Nelson.
Awards were presented in nine categories at three levels: Merit, Honor, and Excellence. The San Juaquin chapter region primarily includes Fresno, Madera, Kings, and Tulare Counties and the jurors were selected from leading architectural firms across the state of California. This award program recognizes outstanding architectural design work in the Central Valley region that enriches the community landscape and upholds the traditions of excellence and professionalism of the AIA.
Sierra View Medical Center leaders feel very fortunate to have worked with such a talented local architecture firm who has helped their vision come to life and exceeded their expectations. One of the design goals for Darden Architects was to create a relaxing, spa-like atmosphere, which they certainly achieved. SVMC believes the award(s) were well deserved and are excited for the recognition.
Design Highlights
The two new 'treatment vaults' have a soft glow of the Sky Factory wall and ceiling panels that contribute to the welcoming feel of the space and giving the appearance of views to the outdoors. The calming design of the Linear Accelerator Vaults is meant to provide a distraction to patients receiving treatments.
The aging façade of the existing building was stripped away and replaced with a new prominent patient entrance and waiting room – the circular shape of the main entrance and reception area is not only a focal point, but intended to be inviting and open. This change effectively splits the waiting area and transition to 'back of house' check-in desk in an elegant way.
Throughout the Cancer Center, natural light was introduced in an attempt to brighten the moods of patients going through treatment and those of their loved ones.
Two water features were donated by members of the local patient community and contribute to the healing ambiance.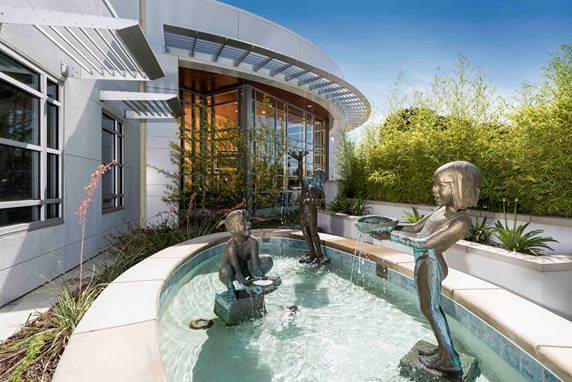 The project also included additional exam rooms and a relocation of the main entrance for more convenient connection to the other buildings on the SVMC campus.
The photos above, taken by Darden Architects were award winning in the respective photography categories.