Local Breast Cancer Survivor Shares Her Story: How You Respond Can Make All the Difference
What seemed to be an irritating and sometimes warm-to-the-touch rash wasn't what Debra Stockton, Kindergarten Teacher at Westfield Elementary in Porterville, thought it could be. In July 2019, Debra was diagnosed with an aggressive type of breast cancer. "I thought it may have been chickenpox or maybe shingles because it came and went," said Debra. "During the last quarter of school, it didn't go away and that's when I went to see the doctor." Without her knowing, tumors had begun to develop. Her rash turned out to be something far more serious.
Debra is no stranger to suffering. She was born with slight Cerebral Palsy, a condition affecting the right side of her body, leaving her left arm and leg a little weaker. She had several surgeries between the age of 2 to10 years old. The same strong will that helped her deal with this and Valley Fever, helped her fight cancer. When she first found out, she thought to herself, "Here is another thing me and my body have to get through." "I've had that attitude my whole life and I've used that very same attitude in dealing with cancer," she said.
Debra's chemotherapy treatment at Sierra View Medical Center's Roger S. Good Cancer Treatment Center took place as the pandemic forced schools to close their doors and turn to virtual learning. Oftentimes, she continued to teach virtually while receiving treatment. She did not let cancer get in the way of her passion and dedication to her students. This was her last year of teaching upon retiring after 36 years and, just like every other year before, she gave her school family the best she could. "I always give my school family my full support to get my kindergarteners as ready as they can be for 1st grade," she said.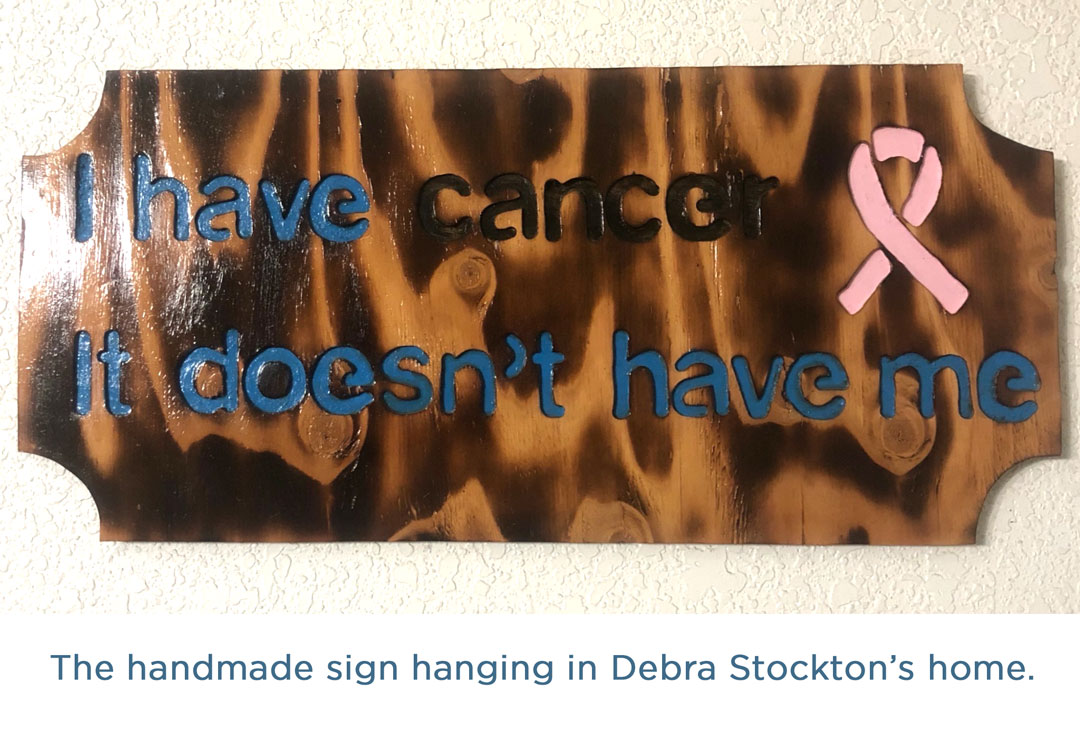 The words, "I have cancer, but it doesn't have me," are painted neatly on a wooden sign her husband made that hangs by her favorite chair in her home. These are powerful words she lived by as she endured the stress, side effects, and everything else that went along with her long, hard fight against cancer. If there is one thing that she would like others who are diagnosed with cancer to focus on, it's to take on a similar mantra to help them get through the terrible disease.
Another "family" and support system was her care team at the Roger S, Good Cancer Treatment Center, including her oncologist. Halloween 2020 is Debra's one-year anniversary of chemo treatment. When she first began her treatment, a registered nurse, Heather Woods, walked her through what was expected and described potential side effects. One side effect that stood out to Debra was "Chemo Brain," cloudiness or mental changes resulting from chemotherapy. She let her good sense of humor kick in and began referring to it as KB. "We're not going to give cancer the satisfaction and let KB get in the way."
Debra requested to be seen by Dr. Kota Shekar, MD, board-certified in Medical Oncology and Hematology, who she describes as fantastic. Dr. Shekar quickly learned that Debra was strong-willed when she insisted she needed to get back to work. Debra speaks very highly of the entire staff at the Cancer Treatment Center. "They are simply amazing," she said and feels very fortunate and thankful for having treatment so close to home.
Debra's amazing story of determination is one that Sierra View Medical Center hopes will help encourage our community members to become more informed about cancer. Breast cancer can happen when least expected but early detection, as well as a full array of cancer treatments nearby, can help. Debra's dedication to her students, their parents, and her co-workers is inspiring. Through her wit and positive outlook, Debra is a prime example of a cancer warrior who has brought smiles to not only her students and family but also to the members of the care team our Cancer Treatment Center.