It has been said often that it's a miracle that local Terra Bella resident, Paula Robinson survived the trauma she endured. Others say that they can't believe her progress after her brain surgery procedure.
Paralyzed and unable to speak, to having her tracheostomy tube taken out and fully coherent and able to eat solid foods, Paula's recent discharge after being a patient at Sierra View's Distinct Part Skilled Nursing Facility (DPSNF) was a time for celebration, warm goodbyes were exchanged and as a new chapter in life for Paula and her family were unfolding.
In 2014, Paula was admitted to Sierra View's DPSNF after her oldest son Phillip refused to let her go to an induced coma and requested that Paula was brought to one of the best and few Subacute Facilities in the southern Central Valley. The life-altering moment for Paula that left her with several broken bones, among numerous other complications and a head injury so severe that her loved ones were told she was most likely near end of life was due to a horseback riding accident. Her family was also told that if she did survive, quality of life would be of concern.
Jessie Hooks, DPSNF Activities Director, who interacted with Paula almost daily, shared that although Paula requires a higher level of support, Paula was up for anything and she was so bubbly and full of life. Jessie also shared that because Paula loved music, many activities in the DPSNF were built around engaging her in some type of musical activity. Whether it was having someone come in from a local church to play the piano where she would hum and sing along as best she could; or a hospital volunteer who played the guitar, Paula was submerged in activities that allowed her to enjoy herself and help her work on verbal and cognitive skills.
Her oldest son, Phillip Jr. Robinson would visit and bring his guitar along and sing and play for her. Jessie shared that Paula's face would instantly light up when he was there. In a hand-written letter that Phillip Jr. Robinson wrote to Sierra View, included a touching sign-off of how he wholeheartedly hopes others receive the same blessing and miracle his mother and family had and thanks everyone at Sierra View for all they have done.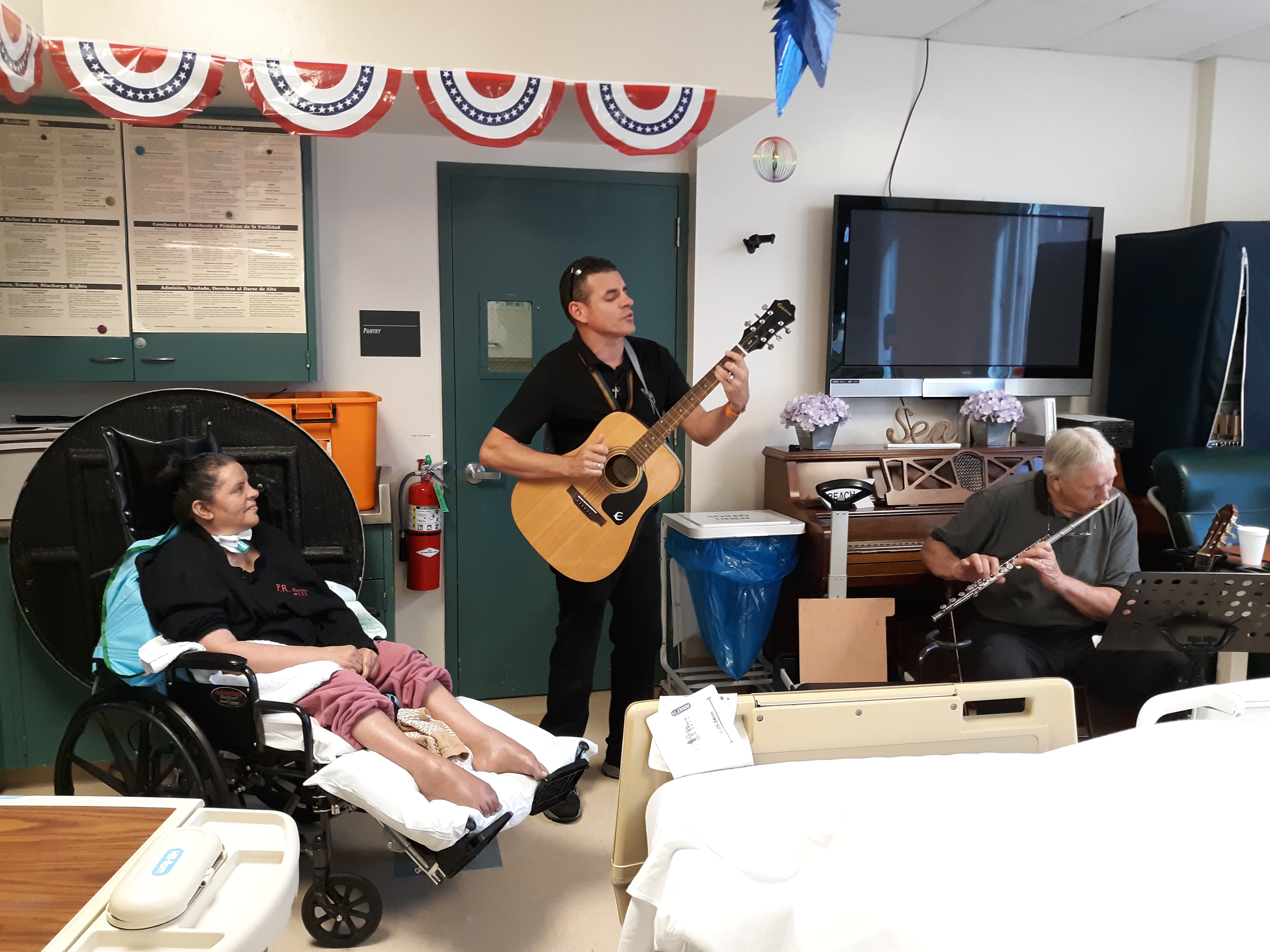 Paula's healthcare team at Sierra View are in awe of her progress over the seven years she was at Sierra View and had the pleasure of being able to send her home where her son and daughter-in-law will be caring for her. To be discharged is a big deal because patients in the DPSNF are typically ventilator dependent and require 24/7 Respiratory Therapy in addition to care such as intravenous therapy, provision of nutrition via tube feeding, and complex wound care.
Since Paula's discharge, staff members who cared for Paula receive updates from time to time on how she is doing, including a recent message from her son of her enjoying the sunshine in a wagon ride down to the river nearby her son's home. Paula will be missed, but Sierra View knows she is in good hands and wishes all the best to Paula and her family.