SVMC Donates Hundreds of Essential Vaccination Supplies to Nearby UCSF Fresno COVID-19 Equity Project
Sierra View Medical Center (SVMC) recently donated hundreds of vaccination supplies including needles and syringes to the UCSF Fresno COVID-19 Equity Project, an offshoot of the UCSF Fresno Mobile Health and Learning Clinic (HeaL). "As a result of Sierra View teaming up with Imperial Ambulance to host a community vaccine site, we found ourselves with a surplus of vaccine-related supplies," said SVMC's VP of Quality and Regulatory Affairs, Melissa Fuentes. "Since we continue to have ample ability to obtain supplies through our Tulare County partnerships, we felt it important to continue to look for someone who could use them. When the opportunity to aid vaccination efforts in the nearby Fresno community arose, we wanted to help. We are all working towards the same common goal."
Opportunities to become vaccinated continue to increase. The Centers for Disease Control and Prevention (CDC) COVID Data Tracker reports that more than 60% of the U.S. adult population has received at least the first dose of the COVID vaccine to date.* Yet, many Central Valley residents remain unvaccinated, many in relation to lack of access and vaccine hesitancy. Just what does it mean to be vaccine-hesitant? It means that much of the population is still unsure as to whether they should receive the vaccine, many fearing it may not be safe to do so.
Sierra View's Vaccination Efforts in Porterville – More than 1,000 vaccines in one month
Porterville is doing its part to help those 12 years old and older to become vaccinated right here in Porterville without the need for travel. Porterville's vaccination efforts rely on key partnerships between local health care organizations, first responders, pharmacies, Tulare County Health and Human Services (TCHHSA) and the California Department of Public Health (CDPH). Since mid-May, Sierra View Medical Center and Imperial Ambulance are offering the first or second dose of the Pfizer vaccine to anyone 12 years and older at the Veterans Memorial Building located at 1900 W. Olive Ave., Porterville, CA 93257. To date, more than 900 vaccines have already been administered at this site. For the latest SVMC-Imperial Ambulance vaccination schedule, please visit www.sierra-view.com/COVIDvaccines.

​
UCSF Fresno Mobile HeaLCOVID-19 Equity Project – Delivering upwards of 25,000 vaccines since launching in September 2020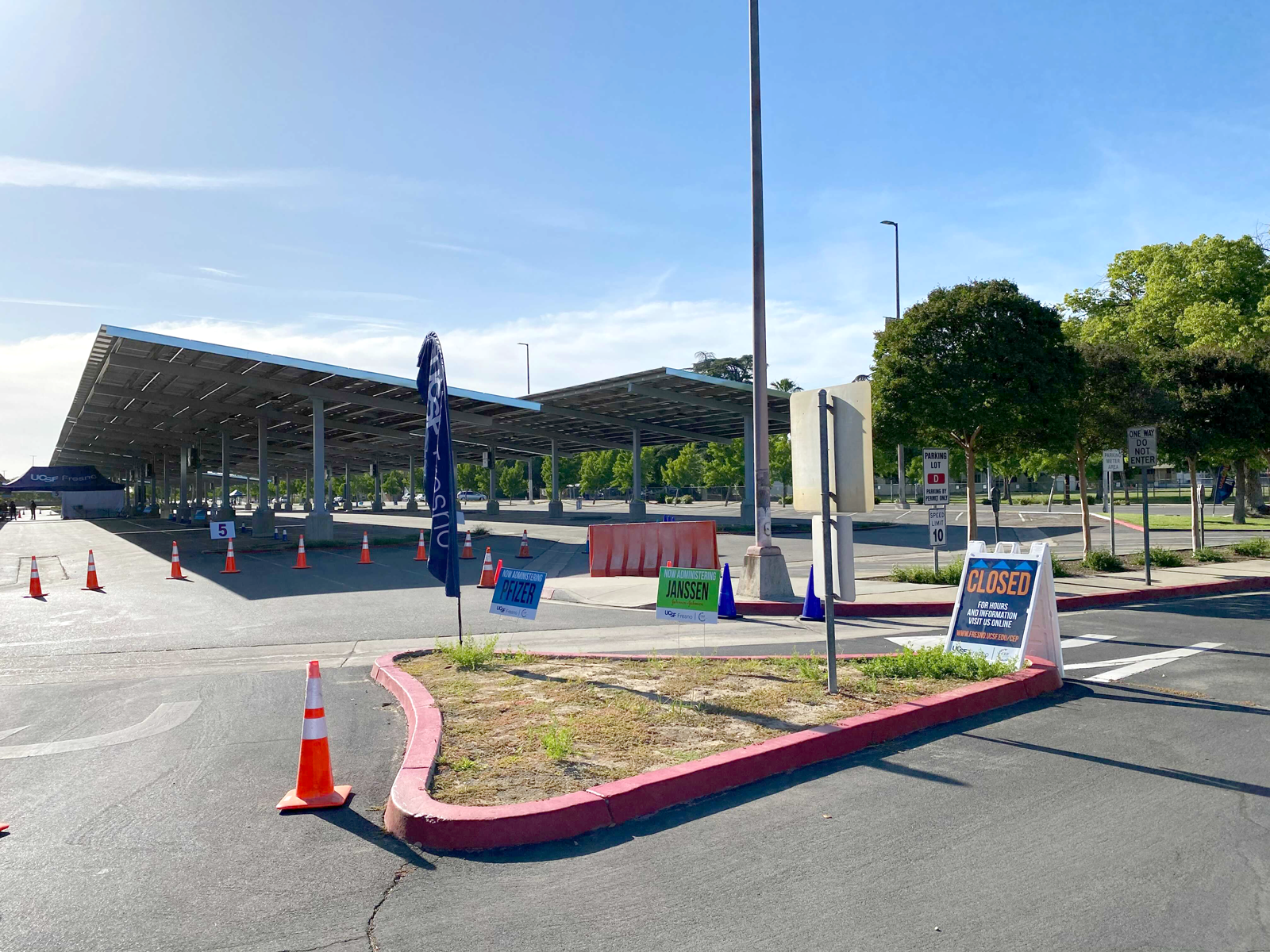 On a larger scale, the UCSF Fresno Mobile HeaL COVID-19 Equity Project is doing the same for Fresno and surrounding communities through a mass vaccination site operating at Fresno City College, located at 1101 E. University Ave., Fresno, CA 93741. In September 2020, UCSF Fresno Associate Dean of Undergraduate Medical Education Dr. Kenny Banh, MD, FACEP and COVID-19 Equity Project Operations Specialist Juanita Sprowell set out to create the COVID-19 Equity Project. The project's mission is "To provide equal access for COVID-19 testing, vaccinations and other health screenings to underserved areas in Fresno, specifically communities of color."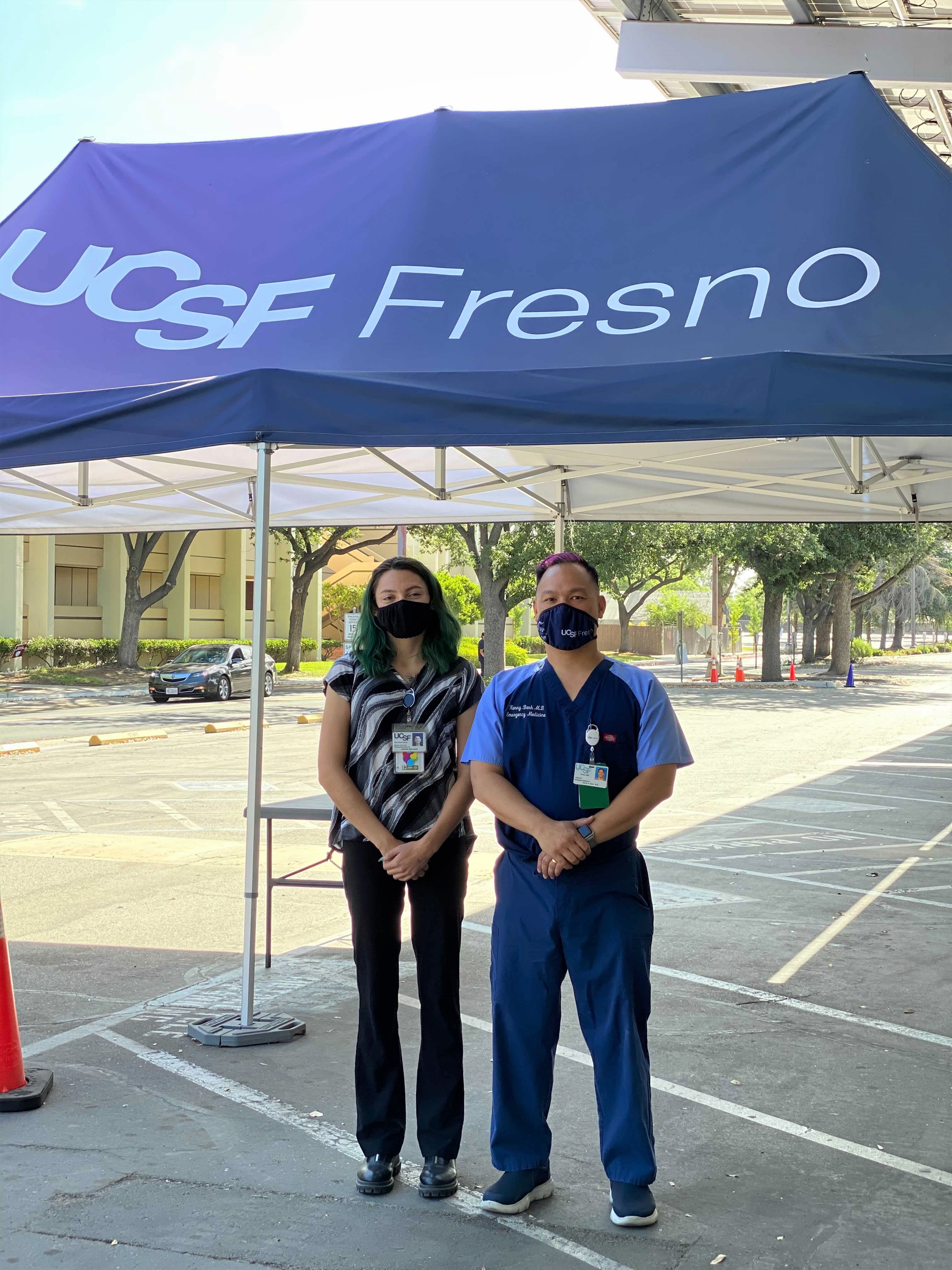 The goal of the COVID-19 Equity Project is to provide community testing, vaccinations, social support and health care services. "It is part of UCSF Fresno's Mobile Health and Learning (HeaL) Project, which is basically a rural outreach clinic, where we provide free health services to underserved populations," says Dr. Banh. The project was not COVID-related but it offered health services to those experiencing homelessness, migrant populations, and also offered LGBTQ+ services. As a result of the pandemic, outreach efforts were put on hold. Dr. Banh worked closely with Sprowell to operationalize a new project relating to vaccinations in Fresno and surrounding communities with the use of federal CARES funding.
Regarding the creation of the program, Dr. Banh said that he wanted to become involved if the project addressed health equity. "If I'm going to do this," he said, "we have to be targeting and increasing access to these services for communities of color." Sprowell plays a crucial role in the project. She is responsible for making sure that vaccination supplies arrive on time. As a graduate of UC Merced, she received degrees in public health and psychology. "My motivation is that I've always loved biology and medicine and public health and being around people," says Sprowell. "I'm just constantly learning about how I can make an impact." Playing a key role in administering 25,000 vaccines administered in the Fresno area, she is doing just that.
Jolene Woods, RN is the clinical manager for the COVID-19 Equity Project and points out the strength in working so closely with Community Based Organizations (CBOs) in the area. CBOs do a lot of the groundwork to help spread the word about upcoming vaccination outreach. "We come in and we provide the vaccine, side by side with our community health workers," she says.
In addition to delivering vaccines, through the COVID-19 Equity Project and the Mobile HeaL Project, Dr. Banh and his team are seeking to help train the next generation of health care workers by building opportunities for the project's staff of more than 40 and training upwards for continued careers in the medical field. A key goal for staffing the mass vaccination site located at Fresno Community College was to recruit from diverse areas. As a result, the site is staffed by team members from various ethnic and professional backgrounds. To learn more about the project, please visit https://www.fresno.ucsf.edu/cep/
Vaccination Opportunities Right Here in Porterville
To find the nearest vaccine in Porterville, please visit the following resources:
• SVMC-Imperial Ambulance Community Vaccination Clinic: www.sierra-view.com/COVIDvaccines
• MyTurn: Appointments are available and can be scheduled by visiting https://myturn.ca.gov/
• Tulare County Vaccine Locator: https://covid19.tularecounty.ca.gov//index.cfm/covid-19-vaccine/
Upcoming COVID-19 Q & A Session (Facebook Live)
Still not sure if you wish to receive the vaccine? Do you have questions you'd like answered by a trusted member of the local health care community? Please let us know.
On Friday, June 18th, health care and emergency services experts from Sierra View Medical Center and Imperial Ambulance will be taking questions from community members regarding the COVID-19 vaccine.
The public is invited to send questions to marketing@sierra-view.com. Deadline to submit questions is Thursday, June 17, 5 p.m. Not all questions are guaranteed to be answered but the team will try their best to answer key questions.
To learn more, please visit www.sierra-view.com/COVIDvaccines or https://www.facebook.com/sierraviewmedical. The direct event link is https://fb.me/e/1nOVShtj9. For more information and details, please contact the Sierra View Medical Center Marketing Department at 559-791-3922 or by email at marketing@sierra-view.com.
*The CDC's COVID Data Tracker is viewable online at https://covid.cdc.gov/covid-data-tracker/#datatracker-home.
Pictured UCSF Fresno COVID-19 Equity Project staff members: Esther Duran, Juanita Sprowell, Gabriel Leal, Dr. Kenny Banh, MD, FACEP