Rise Above: Sierra View celebrates cancer survivors
Story written by ESTHER AVILA eavila@portervllerecorder.com
Photo Credit: SVMC staff . To enjoy additional photos, visit the photo gallery
It was all about celebrating life and being a cancer survivor at the Shine Bright Survivors Day 2021 event held Wednesday at Sierra View Medical Center's Roger S. Good Cancer Treatment Center.
The event, which was kept private with in-house patients last year, was held as a drive-thru event this year with more than 100 RSVPs – all patients, present and past, of the CTC.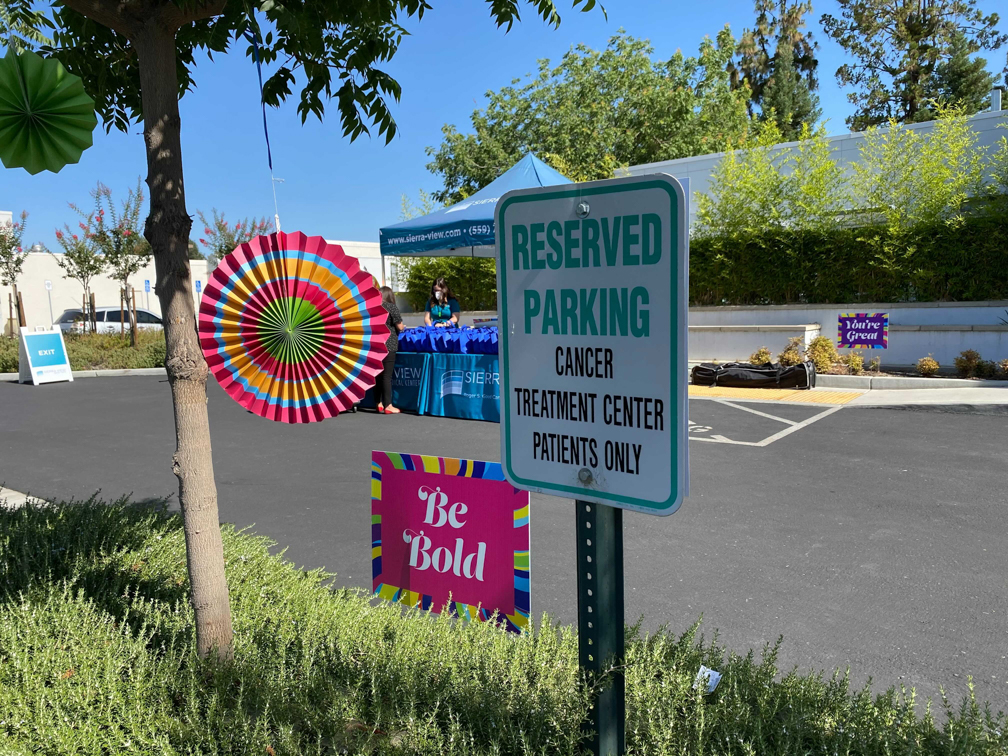 Upon arrival, bright balloons graced the sides of the doors to the CTC, and signs "Be Bold," "Shine Bright," "You're Great," "Rise Above," and "Give it your All" lined the drive, greeting the special guests as they drove under colorful flags before pulling up to the celebration kiosk. Once there, they were greeted by name, high-fived and/or fist-bumped, entered into a raffle for goodies courtesy of Sierra View, and sent off with a smile and a to-go brunch — a breakfast burrito and salsa from Chaguito's Mexican Restaurant, a danish, an apple and a bottled water — all placed in a souvenir, hospital-logo, reusable bag.
"'Survivors Day' is my absolute favorite event," said CTC Director Crystal Davis. "It recognizes their accomplishments. It's a big achievement for them and rewarding for us to see the results of all our hard work."
And the patients loved it too, evident by the big smiles on their respective faces and friendly waves as they passed through the line.
"I love it. I've gone to (Survivors Day Celebration) every year except last year," said nine-year cancer survivor Janine Jenkins. "The staff is wonderful. When you have cancer and go in, you are scared to death. But everyone is welcoming and I appreciate how pleasant it all is."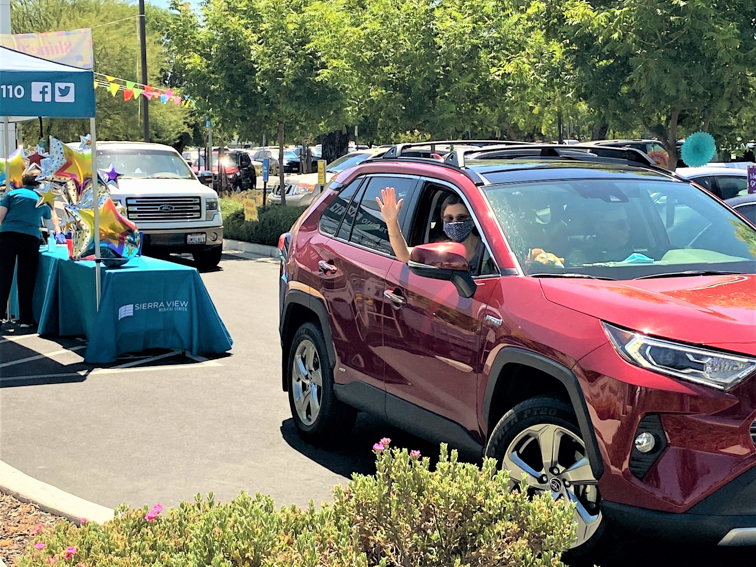 In the past, Jenkins said, she has gone to various themed dinners and events, including one at the movie theater.
"We have different events through the year," said Carol Ann Moore, community relations coordinator. "We hold a Denim Day for the employees, auction a mini-Christmas tree each year, and have shoe fairs, with Roxanne's Birkenstock Shoes of Fresno here."
And each year, there's a different theme to Survivors Day, Moore said.
Moore, and Valeria Reyes, marketing and events specialist, assisted Davis in greeting the survivors on Wednesday.
"It's meant a lot to be able to bring joy to the community and to patients here at the hospital," Reyes said. "And great to hear back from them on how much they love it."
Normally the survivors have monthly support-group meetings, which they haven't had since COVID shut everything down, so the drive-thru means a lot to the staff and the patients, Moore said.
"I'm really glad to resume activities," Davis said. "People have been so excited to come back. They're all asking about the (restart of) support groups. There's been a lot of enthusiasm today. A lot of big smiles."
The Roger S. Good Cancer Treatment Center facility offers state-of-the-art comprehensive cancer care, with a care team that consists of physicians who are board certified in radiation oncology, hematology and medical oncology, and assisted by 22 technicians and nursing staff, all experts in the oncology field, said Davis.

For a full photo gallery taken by SVMC staff, head to the Cancer Survivor's Day 2021 Survivors Day at Roger S. Good Cancer Treatment Center