On the Road Home for Two Sierra View Skilled Nursing Patients
Our Distinct Part Skilled Nursing Facility (DP/SNF) team is all smiles this week! Yesterday, they discharged Mr. Santiago Ceja, a patient from Fresno that had stayed with us for more than a year. Mr. Ceja is now home safe with his wife, Marina Garcia Ramirez. Today, the team again celebrated the safe discharge of a fellow patient, Mr. Robert Torres, who will be moving into another nearby rehabilitation facility. Both Mr. Ceja and Mr. Torres arrived at Sierra View Medical Center following disabling strokes a bit over a year ago.
The Distinct Part/Skilled Nursing facility at Sierra View is a 35-bed facility serving medically fragile patients who are no longer in need of acute hospital care but still require a higher level of support than a traditional skilled nursing facility. The length of stay for the DP/SNF patients varies, with some patients living in the facility indefinitely.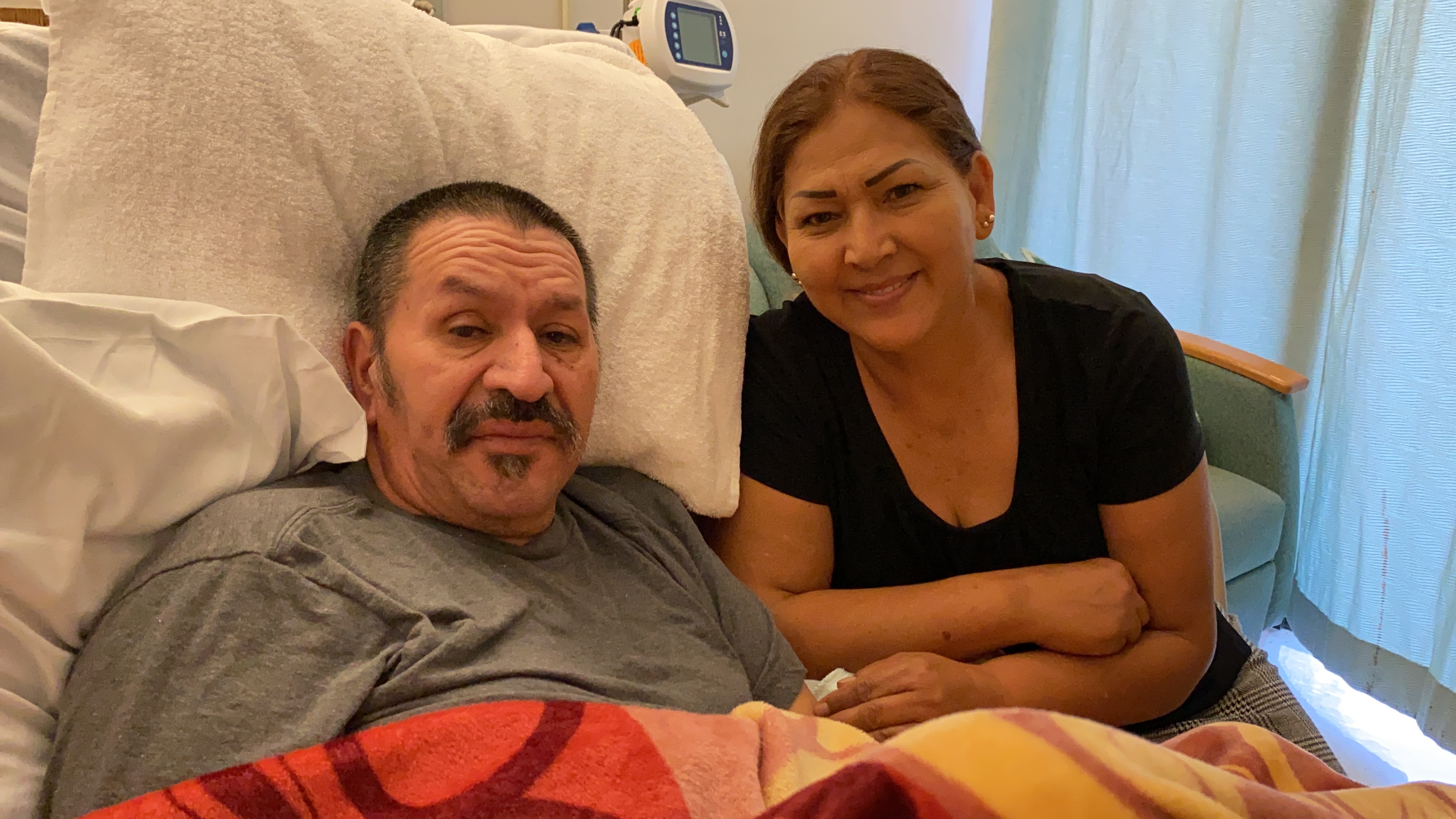 Mr. Ceja's arrival at the DP/SNF occurred in February of 2020. Mr. Ceja is a Christian musician from Fresno whose love of percussion and singing has helped him follow his passion for ministering throughout California's Central Valley. Working on his 15th Christian music studio album, he could never have imagined having to put his life's work abruptly on hold. Following a massive stroke, he was first hospitalized in Fresno and then transferred to Porterville for specialized care. Mr. Ceja's wife, Marina, has been visiting him for more than a year. During times when she was unable to see him in person due to Sierra View's COVID-19 precautions, Marina visited him looking through the window of his patient room.
In reflecting on her husband's medical difficulties, Marina's eyes tear up. It took her months to understand that there was a real chance her husband would remain in long-term care, instead of going home. When he first arrived at Sierra View, Mr. Ceja was a subacute patient, meaning that he had a tracheostomy performed. A tracheostomy is a surgical procedure where an incision is made in the trachea to assist a patient in breathing. Yet, Marina never lost faith. Neither did the DP/SNF team.
Janelle Macomb, a Respiratory Therapist, dedicated to caring for DP/SNF patients, worked directly with Mr. Ceja and noticed that there was a possibility to remove his tracheostomy valve in hopes of restoring his ability to breathe on his own and even speak. Along with Mr. Ceja's doctor, Dr. Harpreet Sandhu, M.D., and an entire team consisting of nursing staff and social workers, Janelle successfully restored Mr. Ceja's breathing capacity.
At the beginning of 2021, the DP/SNF team called Marina with an update. "They said they wanted to give me a New Year's gift," says Marina. Her long hours of prayer felt rewarded when she learned her husband was breathing independently. After that, things continued to improve for Mr. Ceja. Working with DP/SNF Activities Director Jessie Hooks, he regained much of his ability to interact.
Now that Mr. Ceja is once again speaking, he shared that it was his continual faith in God that aided his recovery, as well as his exceptional care team. "Continuing to serve God" is what Mr. Ceja says his goal is now that he will be living back at home. He says he has devoted his life to serving God by helping others and is hoping to one day sing again.
He had projects going, says Marina. She says that she knows Mr. Ceja will one day be able to continue recording music and visit Christian radio stations in the Central Valley. Marina says that while he used to do the driving, it will now be her turn to drive him around to any appointment. "I'm very grateful for the staff here. I'm very grateful to God and thank them for the care they gave him," she says.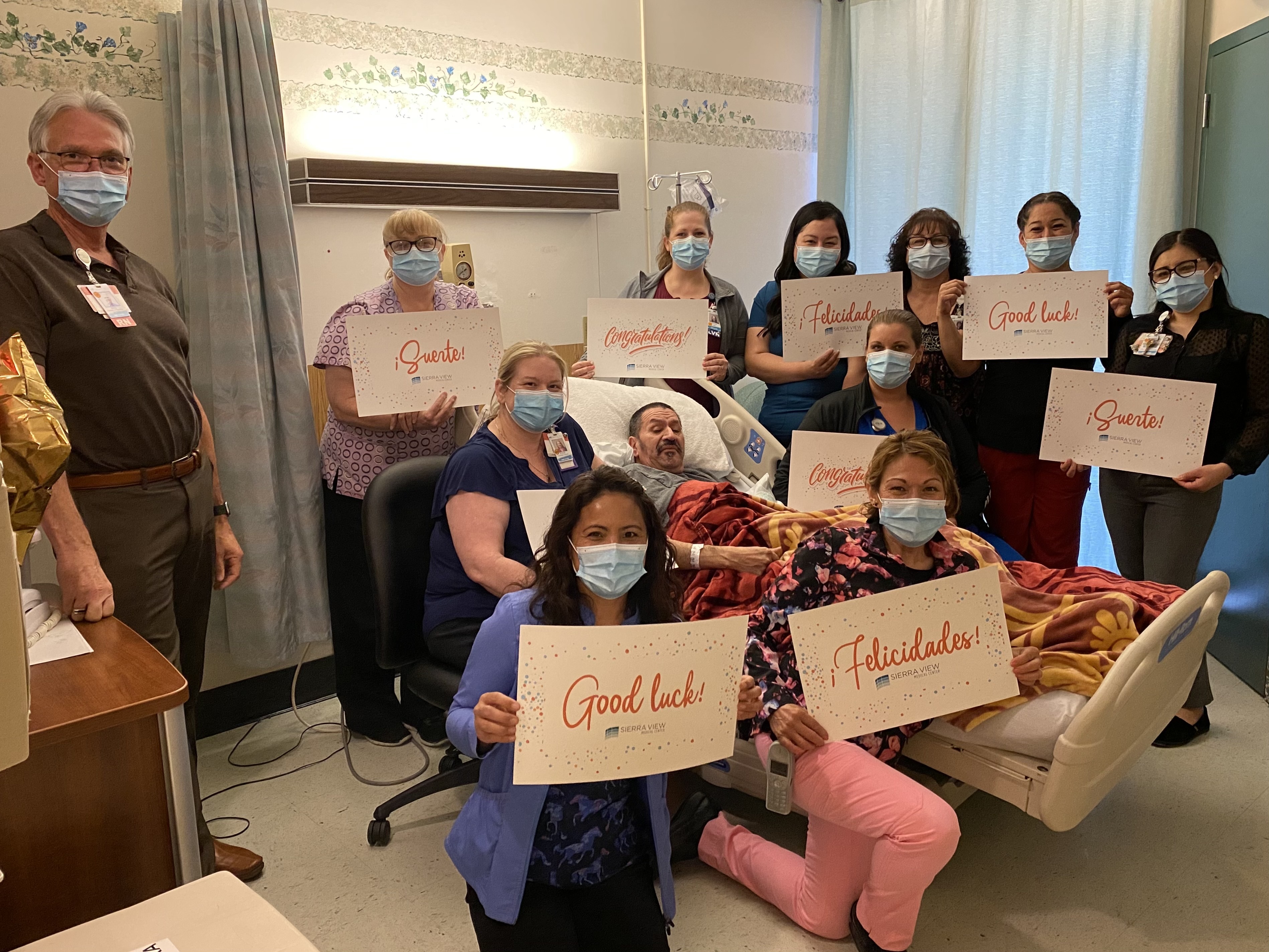 Before leaving the DP/SNF, team members working the shift joined in cheering him on and wishing him a continued recovery. "It's pretty outstanding. This is not something that happens with great frequency," says the Director of Nursing for the DP/SNF, Dr. Kris Reddell, DNP. "It's always exciting for all of the staff. They're just very excited for him and for his family." Seeing a patient's discharge is an absolute pleasure he hopes the team will see more of.
Adding to the team's joy surrounding Mr. Ceja's discharge home is the discharge of Mr. Robert Torres, a local Lindsay resident. Like Mr. Ceja, Mr. Torres suffered a stroke in early 2020 and was transferred to Sierra View's DP/SNF for subacute and skilled nursing care. His care also began with respiratory aid through a tracheotomy. Respiratory Therapist Janelle again played a key role in helping Mr. Torres' care team restore his ability to breathe on his own. "Eventually, if patients are doing better, we can remove the full trach valve," says Janelle and discharge them.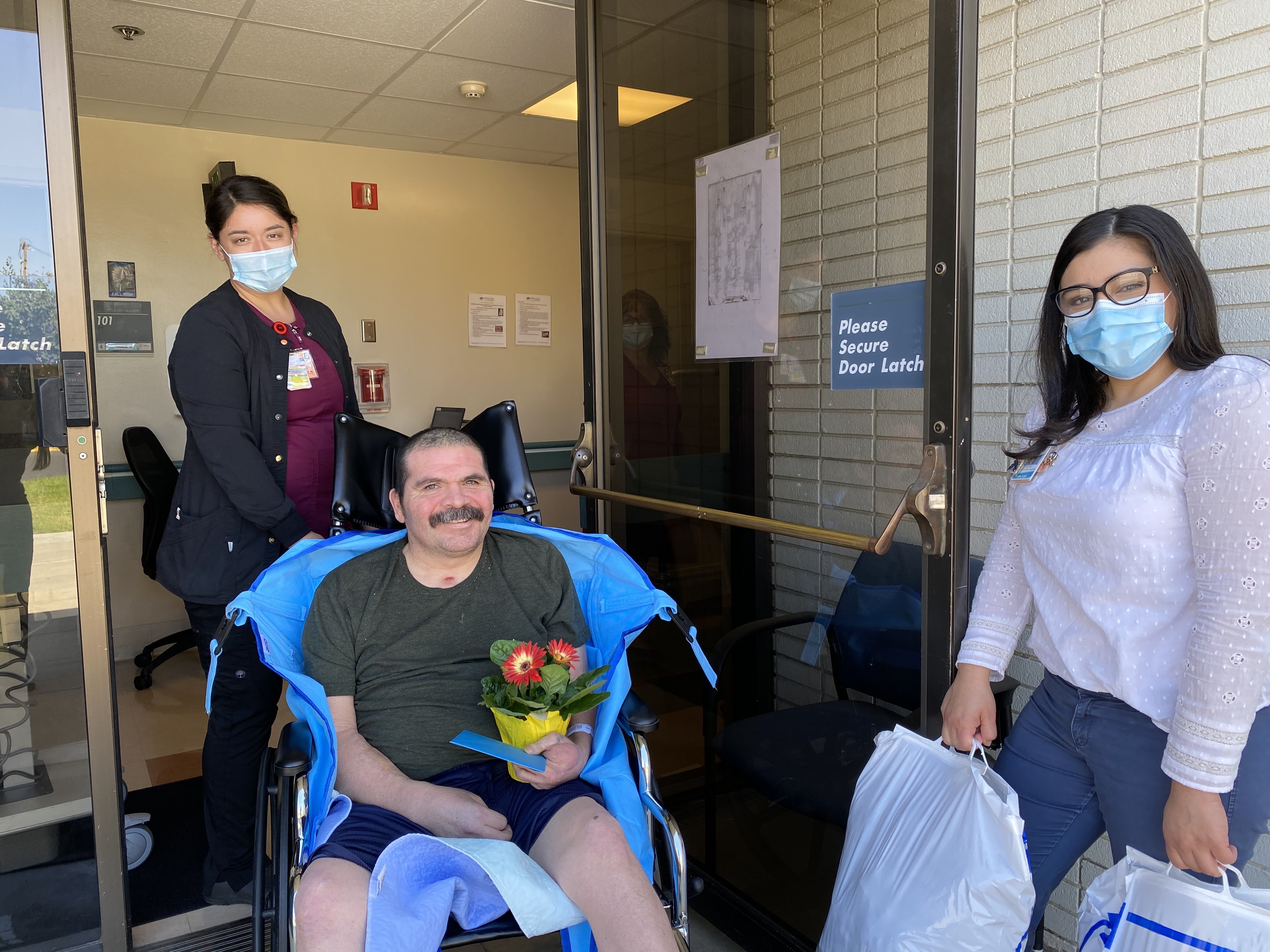 With Mr. Torres, Janelle was also able to help remove the trach valve installed for his respiratory care. He can speak now and says he is happy with the care he received at Sierra View. He is currently on his way to a nearby rehabilitation facility. "It's that constant teamwork," says Dr. Reddell. It takes a village." Sierra View's team of skilled nursing health care experts each plays a role in providing a safe residence to long-term care patients at Sierra View.
The Sierra View DP/SNF is currently home to 32 residents ranging in age from their 20s to their 80s. Some residents are local, while others have come from Northern and Southern California.
To learn more about our subacute and skilled nursing facility, please visit www.sierra-view.com/dpsnf.

Photo Information
Photo 1: Sierra View's DP/SNF Team celebrates Mr. Santiago Ceja's discharge. All staff took necessary COVID-19 precautions to briefly join Mr. Ceja for a photo.
Photo 2: Mr. Ceja and his wife, Marina Garcia Ramirez, take a moment for a photo before heading home to Fresno.
Photo 3: The DP/SNF Team celebrates Mr. Robert Torres' discharge. All staff took necessary COVID-19 precautions to briefly join Mr. Torres for a photo.
Photo 4: Mr. Torres smiles at the camera as he says farewell to his care team at the Sierra View DP/SNF.