Celebrating Finance and Accounting Week: Accounting Team Are Health Care Superheroes!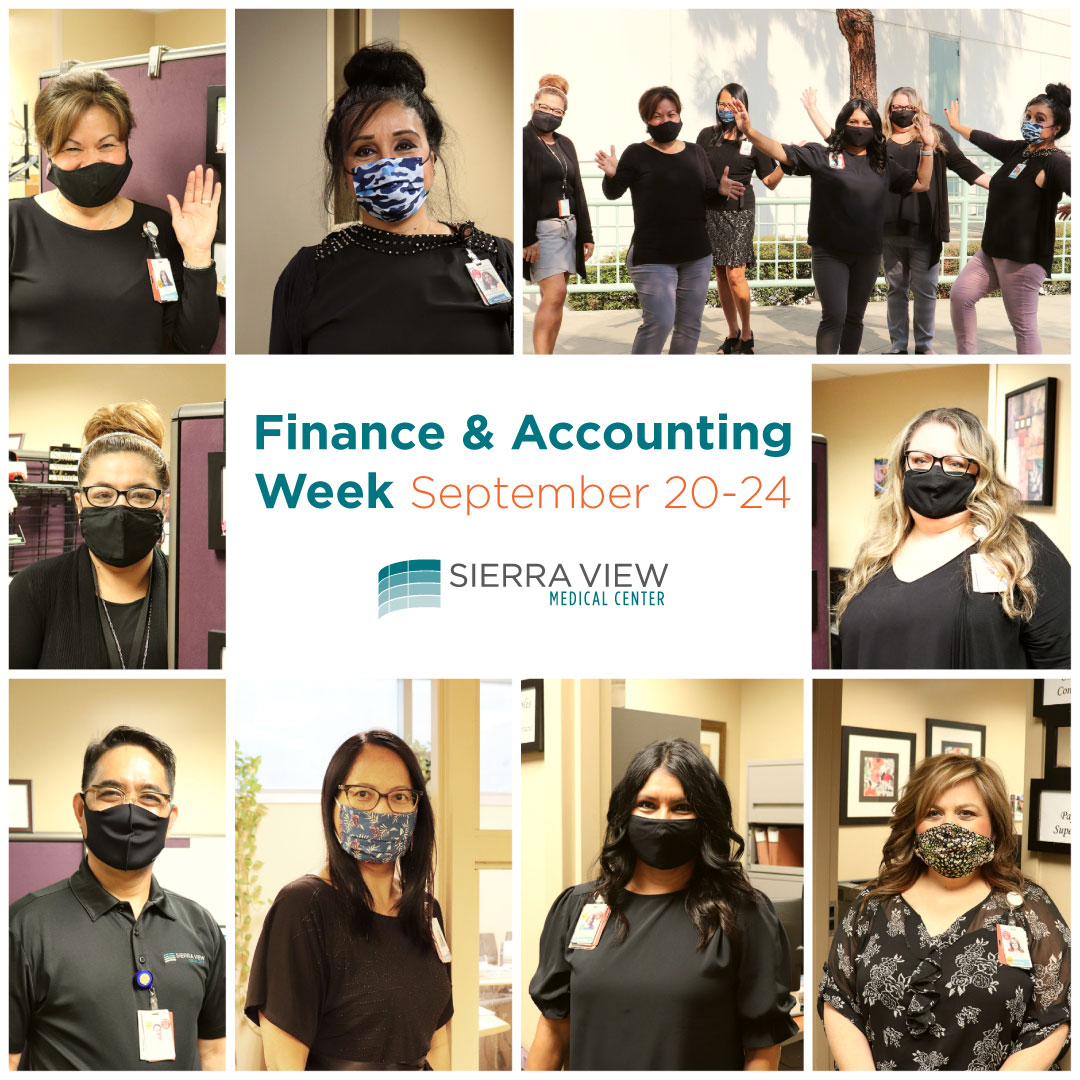 The General Accounting team at Sierra View is comprised of 8 health care superheroes leading the way in everything related to financial reporting, accounts payable and payroll. This week, they are celebrating Finance and Accounting Week (September 20-24)! Director of General Accounting and Controller Merly Camat took a moment to share some key insights about the essential work the team carries out daily.
"Accounting is a rewarding and exciting career choice for anyone who is very detail-oriented and enjoys working with numbers or analyzing financial information," says Merly. The team's attention to detail helps them provide timely and accurate financial information to help management make sound financial decisions. Our Chief Financial Officer Doug Dickson, and other Sierra View leaders use the information to make necessary changes or accommodations, which has been beneficial during this pandemic. Even when there is no public health crisis, leadership relies on financial data to work with Sierra View Local Health Care District Board Members to bring new services and medical equipment to the community.
Beyond presenting accurate financial data, the accounting department is responsible for ensuring that suppliers, vendors and employees continue to be paid on time so that the hospital can continue taking care of patients. Merly views the team's natural sense of the Sierra View value of Accountability as the critical element that makes the team stronger. "They are all accountable to each other within our department as well as all other departments in the organization," says Merly. "They each know the task at hand and work harmoniously together as a team to meet critical deadlines and accomplish daily goals."
The work of the Sierra View Accounting team largely happens behind the scenes. Yet, this week we invite you to help us celebrate them for their amazing work and dedication. Thank you for all you do, Sierra View Accounting!
Merly Camat, Director of General Accounting/Controller
Artie Solis, Staff Accountant
Imelda Soto, Accounts Payable Supervisor
Angie Guardado, Accounting Specialist in Accounts Payable
Olga Molina, Accounting Specialist in Accounts Payable
Rodel Lipumano, Accounting Specialist in Accounts Payable
Sandra Contreras, Payroll Supervisor (Not pictured in team photo in stairwell)
Rhonda Davalos, Accounting Specialist in Payroll
Read more about Finance and Accounting Week online: https://www.iofm.com/events/events/appreciation-week.