New Zones. New Map. Sierra View Local Healthcare District Seeking Community Input
Sierra View Medical Center is currently working through the redistricting process to adopt new boundaries for each of the five district zones that comprise the Sierra View Local Healthcare District (SVLHD). Every 10 years, new census data is made available by the federal government and public agencies and organizations are required to redraw the lines that comprise their district zones to reflect how the local population has changed. It is an opportunity for SVLHD to take into consideration community insight.
CURRENT MAP AND NEW DRAFT MAP
Sierra View Medical Center invites the public to provide input regarding the district's new map. The SVLHD has worked with Davis Demographics to provide a draft map for community review. The current draft, known as "Scenario C," takes into consideration the increase in population in each district zone using data from the latest census. Scenario C provides a view of a suggestion for moving the boundaries of each district. The thick dotted line serves to see where the district lines are currently at. Maps are available for review online by visiting www.sierra-view.com/redistricting. The website is bilingual in English and Spanish. A map created with geographic information system (GIS) tools is also available for review at the redistricting website.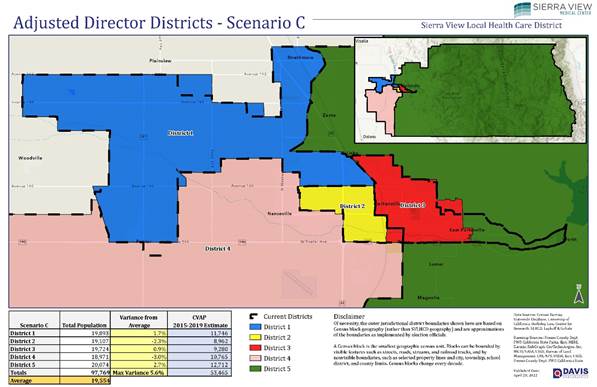 Public Comment Period and Map Proposals
Community members are welcome to submit comments about the proposed map. They are also welcome to provide drafts of their own map proposals. Community members may use their digital map drafting tools of choice or provide a manual hand drawn paper map (scanned in) for consideration. Please submit all comments and map ideas by 4 p.m. on Thursday, May 5, 2022.
Community Insights
Community members are asked to provide insights about the map in relation to the following comment areas:
How does the Scenario C draft district map address topography?
How does the Scenario C draft district map address geography?
How does the Scenario C draft district map address cohesiveness (i.e. How does the map keep communities together)?
Communities of Interest: Do you belong to a certain community that you feel that the Scenario C draft district map helps keep together or break apart?
General: Do you have any other comments or thoughts that you may want the hospital to consider?
Communication Options (How to send input)
If online communication is not a possibility for you, please call 559-791-3922 for assistance.
Community Meeting
The SVLDH Board of Directors is hosting a board meeting to discuss redistricting. Community members are welcome to listen in online or in person.
Who: Community Members
What: Redistricting Meeting
Where: Online or In Person (SVMC Board Room, 465 W. Putnam Ave., Porterville, CA 93257)
When: Thursday, May 12, 2022 (Time TBD)
Meeting Link: www.sierra-view.com/redistricting (Please visit website on day of event for time and event link).
WHAT IS THE SIERRA VIEW LOCAL HEALTH CARE DISTRICT?
The Sierra View Local Healthcare District, also known as Sierra View Medical Center (SVMC), is an integrated healthcare system serving a population of more than 100,000 in the area of Porterville, California and surrounding communities in the southeastern region of Tulare County. The district provides hospital-based services within a 167-bed hospital that is comprised of 132 acute care beds and 35 beds in the hospital's distinct part skilled nursing (DP/SNF) facility. The SVLHD also provides care through primary and specialty outpatient clinics and programs including the Roger S. Good Cancer Treatment Center, Cardiac Cath Lab, the Urology Clinic, Wound Healing Center, Physical Therapy, Intensivist Critical Care programs, and adult and pediatric hospitalist programs. SVMC has partnership affiliations with Valley Children's Medical Center, Keck USC School of Medicine, and Healogics™.
Sierra View Medical Center thanks the community for the opportunity to gain more insights about the community's thoughts and ideas regarding the local healthcare district. Please send any questions to marketing@sierra-view.com.