COVID-19 Update: Sierra View Medical Center Shares Latest on Pandemic, Safety Precautions, and Reliable Health Info
Porterville, CA – February 4, 2022
The situation surrounding COVID-19 has been fast-moving and quickly changing from the very beginning. Sierra View Medical Center continues aligning with guidance from the California Department of Public Health (CPDH) in relation to social distancing, masking protocol for hospitals, and the importance of vaccines. The hospital continues following an evidence-based approach to patient care. This means that Sierra View remains flexible in accommodating ever-changing guidance that is based on the latest scientific discoveries regarding COVID-19 and other healthcare-related matters.
COVID-19 S.O.S. and the state of the Pandemic
The pandemic continues to be life-threatening and a cause for concern. Hospitals in the area are unified in this message.
S.O.S. Campaign
Sierra View Medical Center participated in the S.O.S. campaign launched by a group of hospitals including nearby Kaweah Health, Adventist Health, Community Medical Centers, Madera Community Hospital, Saint Agnes, San Joaquin Valley Rehabilitation Hospital, UCSF Fresno and Valley Children's with the support of the public health departments in Fresno County and Tulare County. This is an example of how hospitals and other health agencies are working together to raise awareness about the impacted capacity of hospitals.
Sierra View Medical Center and other Central Valley Hospitals Are Impacted
All hospitals in the area are impacted as a result of a large number of COVID-19 hospitalizations in addition to the emergency care hospitals already provide including care for heart attack and stroke patients. Nearby Kaweah Health is typically operating above capacity while Sierra View Medical Center is often at or near capacity. This means that there simply are not enough ICU beds, for instance, to care for patients when they need it the most. This reduced capacity affects access to care for all community members.
Taking Care of Emergency Patients
One of the core jobs of hospital is to provide emergency services. Local health care organizations need the help of community members to prevent COVID-19 hospitalizations so that they can maintain space available for individuals who need to be seen for other concerns. Increased COVID-19 cases impact emergency departments everywhere by not allowing for enough emergency rooms to be available for patients facing other emergencies.
California's State of Emergency: If there is still a state of emergency, why are the tents outside of the Emergency Department no longer up?
The state of emergency for the State of California was first proclaimed on March 4, 2020, and was extended to March 31, 2022. The extension went into effect on November 10, 2021. Essentially, the state of emergency allows hospitals to move quickly to make necessary adjustments to safeguard the safety of our community. At the beginning of the pandemic, it was necessary to have an emergency tent in use. Since 2020, Sierra View Medical Center and other hospitals have become efficient in putting processes in place and identifying specific areas for running a hospital facility as a Covid hospital and a non-Covid hospital all at once. Consequently, at Sierra View Medical Center, there is not currently a need to bring back the use of emergency tents.
Despite the emergency tents no longer being up, the number of patients walking through the doors of the Sierra View Medical Center emergency department continues to be very high. On most days, the emergency room and other areas of the hospital are beyond capacity. Currently, one-third to one-half of the patients in the hospital are admitted due to Covid. Hospital teams are doing their best to make the hospital campus look as normal as possible to ensure that those who need emergency hospital services and other hospital care will feel comfortable in seeking it.
To learn more about the state of emergency, please read the executive order online https://www.gov.ca.gov/wp-content/uploads/2021/11/11.10.21-Vaccine-and-Med-Surge-Extension-EO.pdf.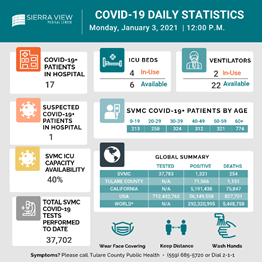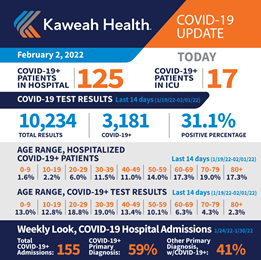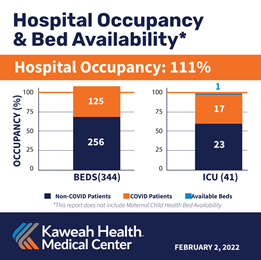 Sierra View Medical Center's ICU has been at or near capacity since Friday, January 14, 2022. Nearby Kaweah Health's ICU also continues to be impacted.
Community Members Can Make a Difference
Taking a few steps of precaution can go a long way in lowering the impact on local hospitals and safeguarding the health of our community's youngest and oldest members.
Key COVID-19 Safety Tips continue to be:
Get Vaccinated and stay up to date on your COVID-19 vaccines
COVID-19 vaccines are effective at preventing you from getting sick and preventing severe illness, hospitalizations, and death.
Everyone ages 2 years and older should properly wear a well-fitting mask indoors in public and in areas of substantial or high community transmission, regardless of vaccination status.
Stay 6 feet away from others. Inside your home: Avoid close contact with people who are sick, if possible. Avoid poorly ventilated spaces and crowds
Wash your hands often with soap and water for at least 20 seconds especially after you have been in a public place, or after blowing your nose, coughing, or sneezing.
Clean high-touch surfaces regularly or as needed and after you have visitors in your home. This includes tables, doorknobs, light switches, countertops, handles, desks, phones, keyboards, toilets, faucets, and sinks.
Monitor your health daily
Watch for fever, cough, shortness of breath, or other symptoms of COVID-19. Take your temperature and follow CDC guidance if symptoms develop. Reach out to your doctor or primary provider for additional guidance.
Read more from the CDC by visiting https://www.cdc.gov/coronavirus/2019-ncov/prevent-getting-sick/prevention.html. For Spanish, please visit https://espanol.cdc.gov/coronavirus/2019-ncov/prevent-getting-sick/prevention.html.
COVID-19 Vaccinations
Just as the COVID-19 virus has changed, so has our approach to it. Vaccination continues to be the leading line of defense to prevent hospitalizations.
If the vaccine works, why do people keep getting COVID-19?
As the pandemic has gone on, we now know that while the vaccine may not prevent the spread of COVID-19 the way we would have hoped, it does help prevent hospitalizations in many cases.
Take a look at the latest data from the CDPH. It shows just how many more COVID-19 hospitalizations involve unvaccinated patients instead of vaccinated patients.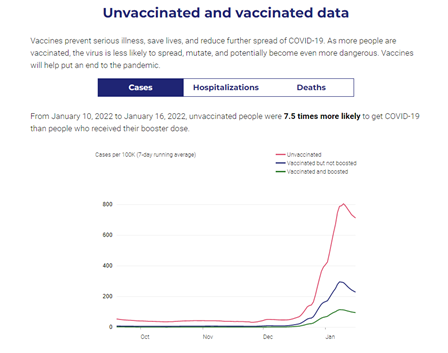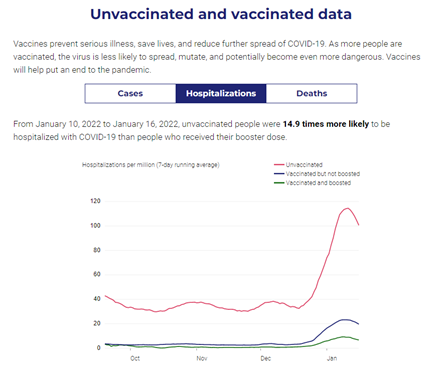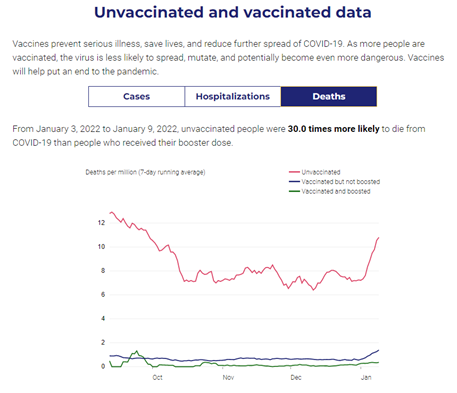 The number of positive cases, hospitalizations, and deaths remains to be higher for unvaccinated individuals than for those vaccinated.
Source: https://covid19.ca.gov/state-dashboard/#postvax-status
Reliable Sources of COVID-19 Information
The following sources continue to be reliable for the latest regarding COVID-19 safety, masking guidelines and vaccination updates:
Have questions?
Please let us know by emailing marketing@sierra-view.com.
###
Sierra View Medical Center (SVMC) is an integrated healthcare system located in Porterville, California, and is the health care service of the Sierra View Local Health Care District. The hospital serves the Southern Sequoia region of California's Central Valley and is the pre-eminent health care provider in the area. The 167-bed hospital is comprised of 132 acute care beds and a distinct part skilled nursing (DP/SNF) facility with 35 beds, in addition to primary and specialty outpatient clinics. Sierra View Medical Center features the latest in stroke care and is certified by The Joint Commission as an Advanced Primary Stroke Care Center and offers specialty heart care services at the Cardiac Catheterization Lab licensed by the California Department of Public Health (CDPH). SVMC provides excellent health care services in a compassionate environment where the goal is to make patients and their families feel comfortable. SVMC's primary and specialty outpatient clinics and programs include: The Roger S. Good Cancer Treatment Center, the Urology Clinic, Wound Healing Center, Community Wellness Center, Physical Therapy, Intensivist Critical Care programs, and adult and pediatric hospitalist programs. SVMC has partnership affiliations with Valley Children's Medical Center, Keck USC School of Medicine, and Healogics™. The hospital features a Graduate Medical Education (GME) Internal Residency Program, accredited by the Accreditation Council for Graduate Medical Education (ACGME), and a Vizient/AACN Nurse Residency Program™ to cultivate and train superior community hospital-based healthcare professionals for our region and beyond.
By demonstrating compliance with The Joint Commission's national standards for health care quality and safety, Sierra View Medical Center earned The Joint Commission's Gold Seal of Approval. To learn more, please visit www.sierra-view.com. Questions? Please contact marketing@sierra-view.com. SVMC Media Kit available online: www.sierra-view.com/media-kit