Laboratory Scientists Right Here in Porterville: New CLS Graduate Pedro Reyes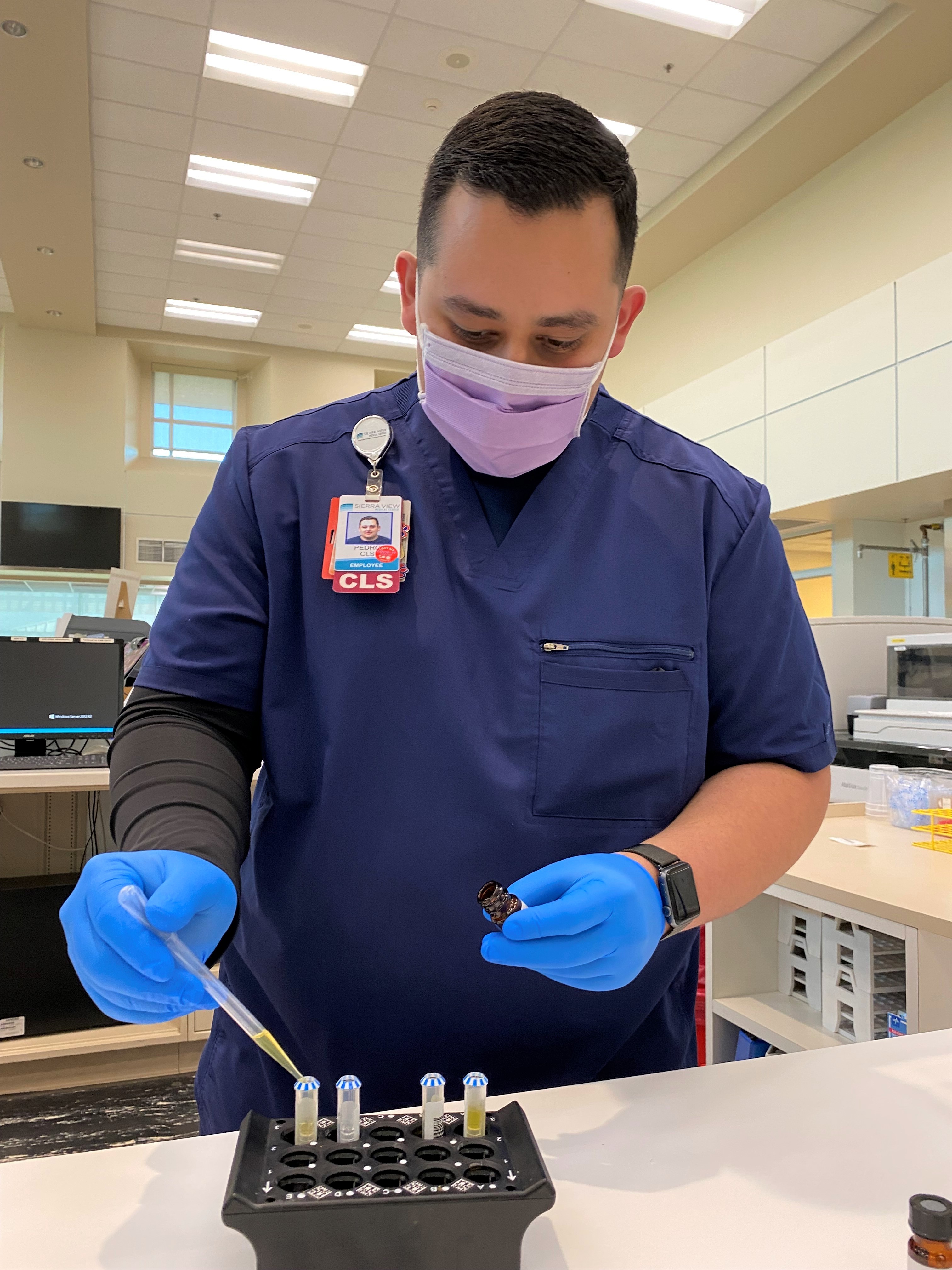 A career in the sciences was just a drive away for Clinical Lab Scientist (CLS) Pedro Reyes. Reyes recently completed his CLS Licensure through Sierra View's Clinical Lab Scientist Program after first working as a phlebotomist at Sierra View Medical Center (SVMC) since 2020. Growing up in Porterville, Reyes graduated from Harmony Magnet Academy in Strathmore, Calif., a high school emphasizing academic training in STEM (Science, Technology, Engineering and Mathematics). Reyes' love of science took him to nearby Fresno State where he graduated with a Bachelor of Science in Biology.
Reyes says he was inspired to join healthcare to make a difference in patient care through science-based work. "I've always loved lab work starting in high school, and throughout undergrad, so I knew I would love to be in the lab setting," he says. His mother, Leticia Reyes is a Phlebotomist and Certified Lab Aide at Sierra View Medical Center and she and Clinical Lab Scientist Lead Anthony Nungaray shared the scientific career possibilities with Reyes. The guidance from his mother and support from local lab scientists helped Reyes decide to become a Certified Lab Scientist, where he now applies his love of laboratory work while also helping patients. He also credits the Porterville Unified School District (PUSD) Academy of Engineering (AOE) Pathway he was a part of at Harmony for helping to cultivate an emphasis on self-learning and self-motivation. Both of those concepts have helped Reyes in reaching his scientific career goal.
The laboratory is pivotal in helping to deliver custom care to patients upon entry to the hospital or while visiting outpatient facilities. As a CLS, Reyes helps provide accurate patient test results to doctors. Doctors then use the test results to determine what may be wrong with a patient. "As a CLS, is it my job to see results and know whether or not the specimen was collected correctly. Or if there is some type of contamination that would produce inaccurate results," says Reyes.
Reyes is not alone in his emphasis on quality control and accuracy. He is part of a team of more than 50 lab employees who all value the importance of providing the correct information for every patient every time. In 2021, the Sierra View lab processed 628,300 lab tests. Broken down by panel, the yearly total increases to more than 1.5 million individual tests. The Joint Commission surveys the lab every two years to help ensure that the facility continues delivering high-quality laboratory results to provide safe, high-quality patient care.
"It takes a great deal of collaboration and a good sense of communication to accomplish that type of performance," says Director of Laboratory Gary Wareham. And projects including communication improvements between the lab and other departments appeal greatly to Reyes. Whether Reyes can participate in lab education to other departments or instruct others on how to properly collect lab specimens, he welcomes any teaching and learning opportunities. Reyes knows it all plays into keeping the patient at the center of everyone's priorities.
Reyes is the 6th to receive CLS certification after completing the Sierra View Medical Center program which began in 2018. The laboratory has an open invitation to others wishing to become lab scientists.
This CLS program was a vision that lab leadership had and collaborated with senior leadership to make a reality," says SVMC CEO / President Donna Hefner, RN, BSN, MSHS. She says it was built around efforts to increase the local CLS workforce after laboratory leadership and senior leadership realized that over time, there were not enough applicants available. "It is really a concept built on believing in our own local community students with an emphasis on growing from within," adds Hefner.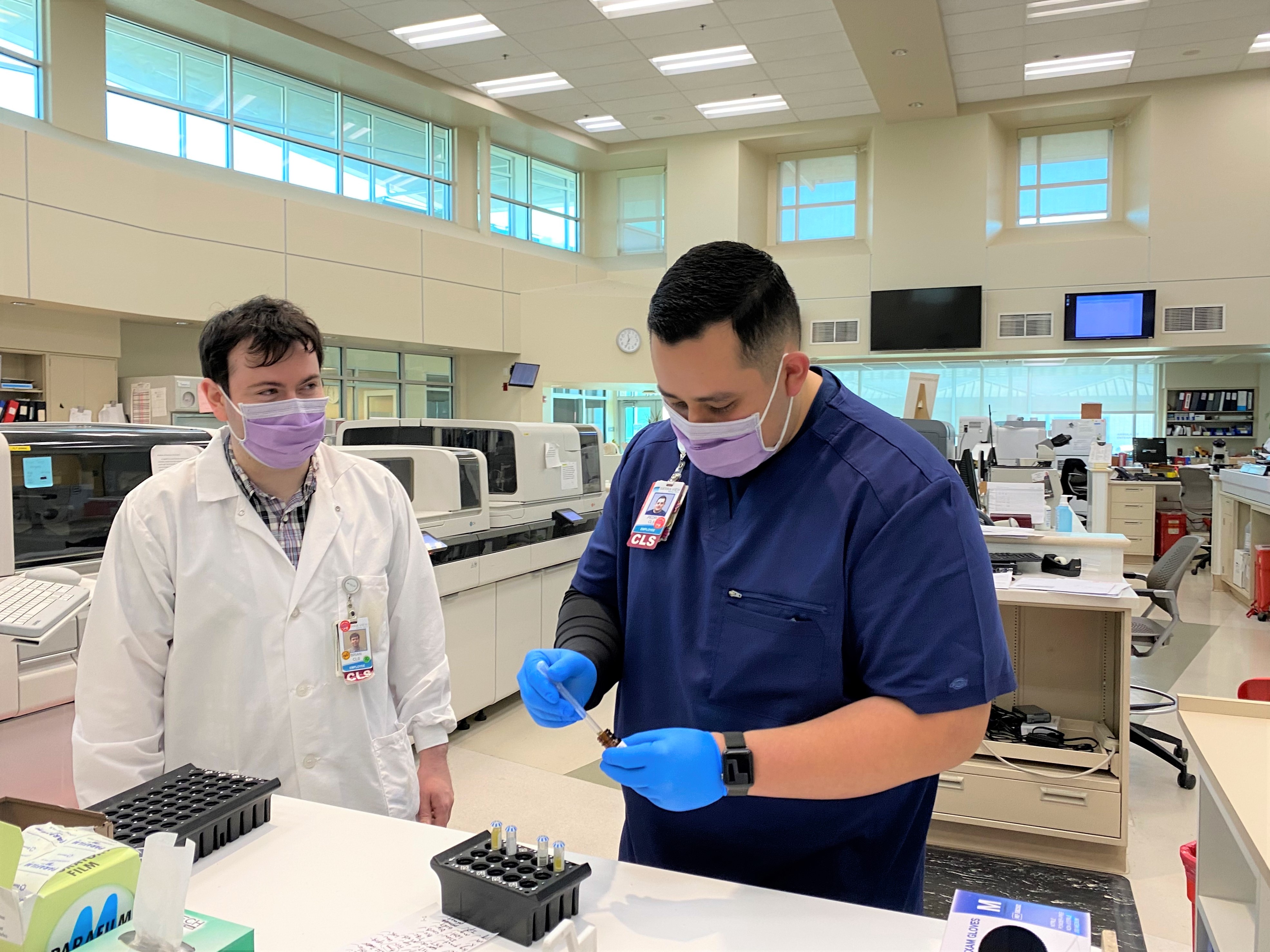 Fellow CLS Brian Petersen looks on as new CLS Pedro Reyes performs lab work.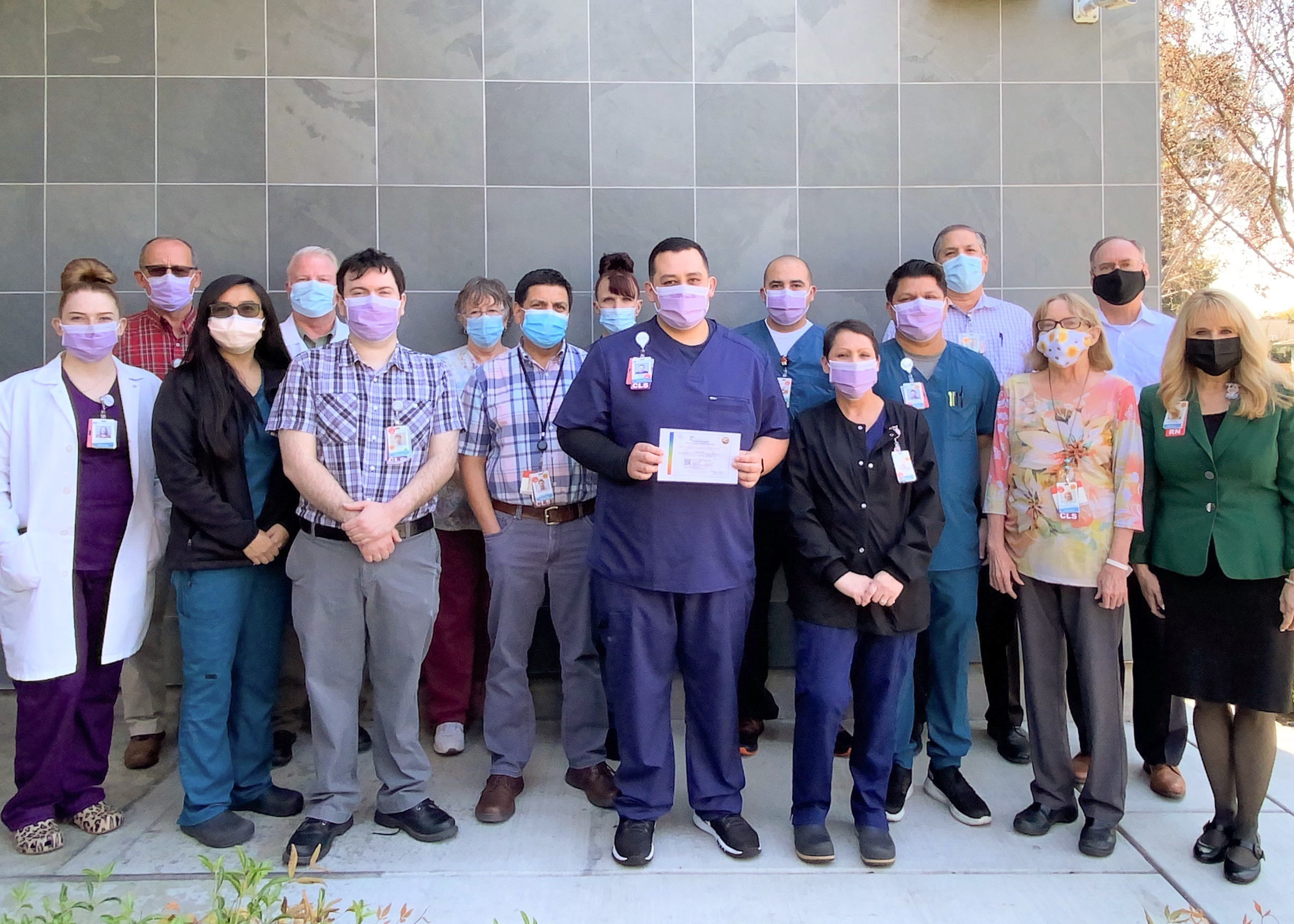 SVMC Laboratory leadership works closely with the hospital's Senior Leadership Team to ensure the program's success.
Sierra View Medical Center is one of few state-certified facilities to offer the CLS Training Program in alignment with the California Department of Public Health (CDPH). The program consists of a 12-month service rotation for new grads with a bachelor of science degree, among other qualifications. Those interested may apply beginning in April for the July rotation and September for the January rotation. CLS Training participants will receive hourly wages as full-time day shift trainees and work Monday-Friday. To learn more, please visit https://www.sierra-view.com/hospital-services/laboratory/cls-training-program/. To apply for the CLS Training Program at Sierra View Medical Center, visit www.sierra-view.com/careers or contact SVMC's Talent Acquisition Partner Lance Rowell (LRowell@sierra-view.com, 559-788-6079).
Sierra View Medical Center is a proud workforce development partner to the Porterville Unified School District (PUSD) Pathways program. To learn more about the local Pathways programs and their work-based learning approach to career technical education (CTE), please visit https://pathways.portervilleschools.org/.