Veterans Day Vaccines: Protecting Our Community One Shot at A Time
Porterville, CA – November 10, 2021:
Porterville's City Council recently approved to proceed with one of the city's most historic and largest signature events, the Veterans Day Parade, to honor the brave service and sacrifices of our servicemen and women. This year, COVID-19 vaccines will be offered at the event to help protect the same country and community our veterans have served throughout the decades. Tulare County continues to be one of the least-vaccinated counties in the state. Still, Porterville is leading the way in increasing vaccinations in Southeastern Tulare County. To help celebrate our community's veterans, parade-goers receiving a dose of the COVID-19 vaccine at the event will receive a $100 Gift Card to a local Porterville Main Street business. City Council Members decided to provide the incentive, as they have done at four previous Vaccine Roundup events through the use of federal funds provided through the American Rescue Plan Act (ARPA). COVID-19 vaccinations at the Veterans Day Parade will take place on Thursday, November 11, 2021 from 8 a.m. – 12 p.m. at the public parking space behind the San Joaquin Valley College located at 314 N. Main St., Porterville, CA 93257. Available COVID-19 vaccines at the Veterans Day Parade will be Pfizer BioNTech (1st, 2nd, and Booster Doses) and Moderna (Boosters only).
Beyond Hospital Walls
Providing vaccinations at community events is an example of the hospital and community partners' commitment to doing whatever it takes to increase access to the lifesaving COVID-19 vaccine. Vaccinations at the Veterans Day Parade extend the vaccination partnership between Sierra View Medical Center, Imperial Ambulance, and Tulare County Health & Human Services Agency. Vaccinations will continue at the SVMC-Imperial Ambulance Community Vaccination Clinic, which operates weekly Thursdays – Saturdays, 9 a.m. – 6 p.m. However, the vaccination clinic will be closed on Veterans Day to offer vaccines at the parade. On Sunday, November 14, 2021, vaccination efforts will be focused on the Poplar community. COVID-19 vaccines will be available to community members from 2 – 6 p.m. at Centro de Adoracion Church located at 14815 Rd. 192, Poplar, CA 93257, within a community outreach event coordinated with other local community partners. Additionally, Round #5 of Porterville's Vaccine Roundup will take place November 18, 19, 20, 2021, and will again feature the ARPA-Funded $100 Gift Card incentive to those receiving a dose of the vaccine at the clinic (ages 12 and up).
Veterans in Healthcare
Since May of 2021, more than 10,000 vaccines have been administered at the SVMC-Imperial Ambulance Community Vaccination Clinic, previously located at Porterville's Veterans Memorial Building and now located at 385 Pearson Dr. in Porterville. These vaccination efforts are fueled by dedicated healthcare workers, several of whom are themselves veterans. On the Sierra View Side, several veterans help serve the health care needs of our community. One of those veterans is the hospital's Chief Nursing Officer Dr. Jeffery Hudson-Covolo, DNP, RN, NEA-BC, FACHE, who has played a pivotal role in the clinic's operations and in maintaining clinical staffing. With decades of health care experience following his military service in the U.S. Air Force and the U.S. Army Nurse Corps, Dr. Hudson-Covolo continues to show his commitment to caring for his country. The same is the case for Imperial Ambulance's Michael Weill. Following five years of active duty in the U.S. Army, including deployment to Afghanistan, Weill now serves our community as an Emergency Medical Technician (EMT). He helps respond to emergency calls in Porterville and surrounding areas. In his 2014 deployment to Afghanistan, Weill says it was a hearts and minds deployment. "We were attempting to win the hearts and minds of the locals through the outreach of medical care," he says. He and his troop provided medical treatment to U.S. service members. "We provided not only emergency surgical care, but also standard medical procedures for all local nationals and the Afghan military and police." After concluding his military service, it was unclear to Weill whether he would be able to help again in that capacity. A career in Emergency Medical Services (EMS) has allowed Weill to continue supporting his country in a great time of need. Weill says he has seen the country divided in many ways during this pandemic, yet come together in many others. "We are doing the public outreach," says Weill of the SVMC-Imperial Ambulance vaccination efforts that he feels are helping to protect the community. "Showing the community that the ambulance is not just a bad thing, and the hospital is not just a bad thing, it is preventative medicine," he says is crucial. "It is a hearts and minds mission. Let's not get sick. Let's cure the community before the community gets to that point." Weill is joined by other veterans on the Imperial Ambulance side, including Steven Ross, a U.S. Navy Veteran with more than 30 years of EMS experience. Earlier in the year, Ross came out of retirement to aid in community vaccination efforts.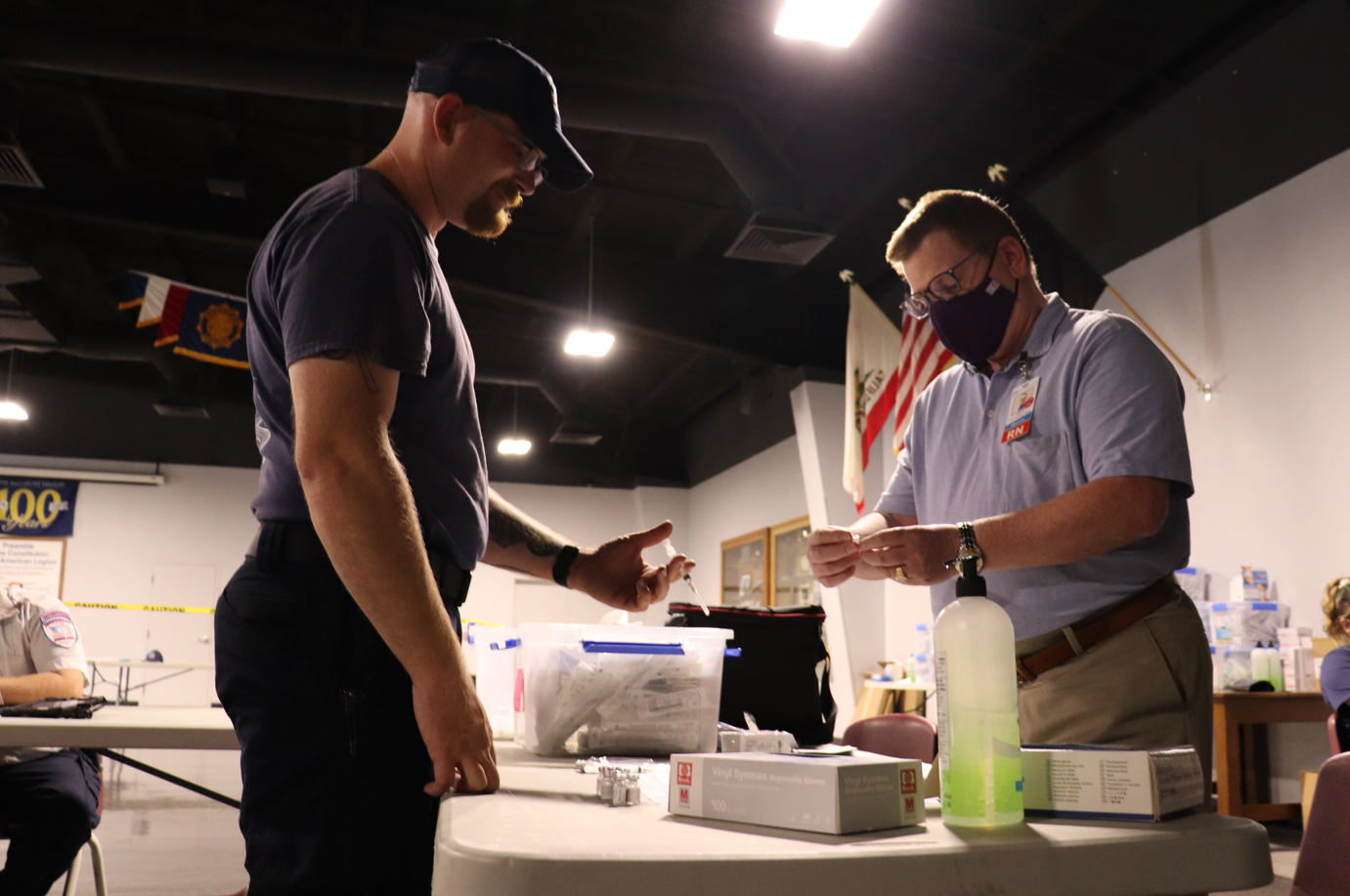 U.S. Army Veteran Michael Weill works with Dr. Hudson-Covolo at a vaccination station.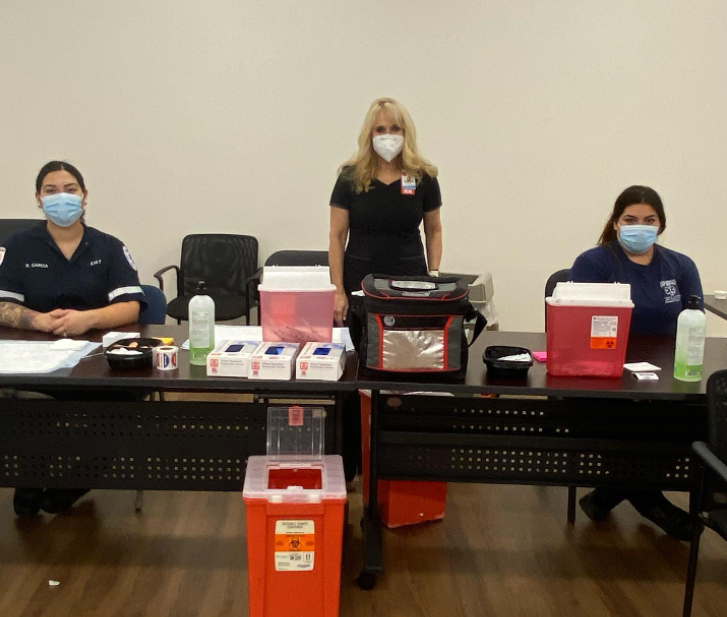 Sierra View CEO/President Donna Hefner has assisted in administering COVID-19 vaccines at the Community Vaccination Clinic.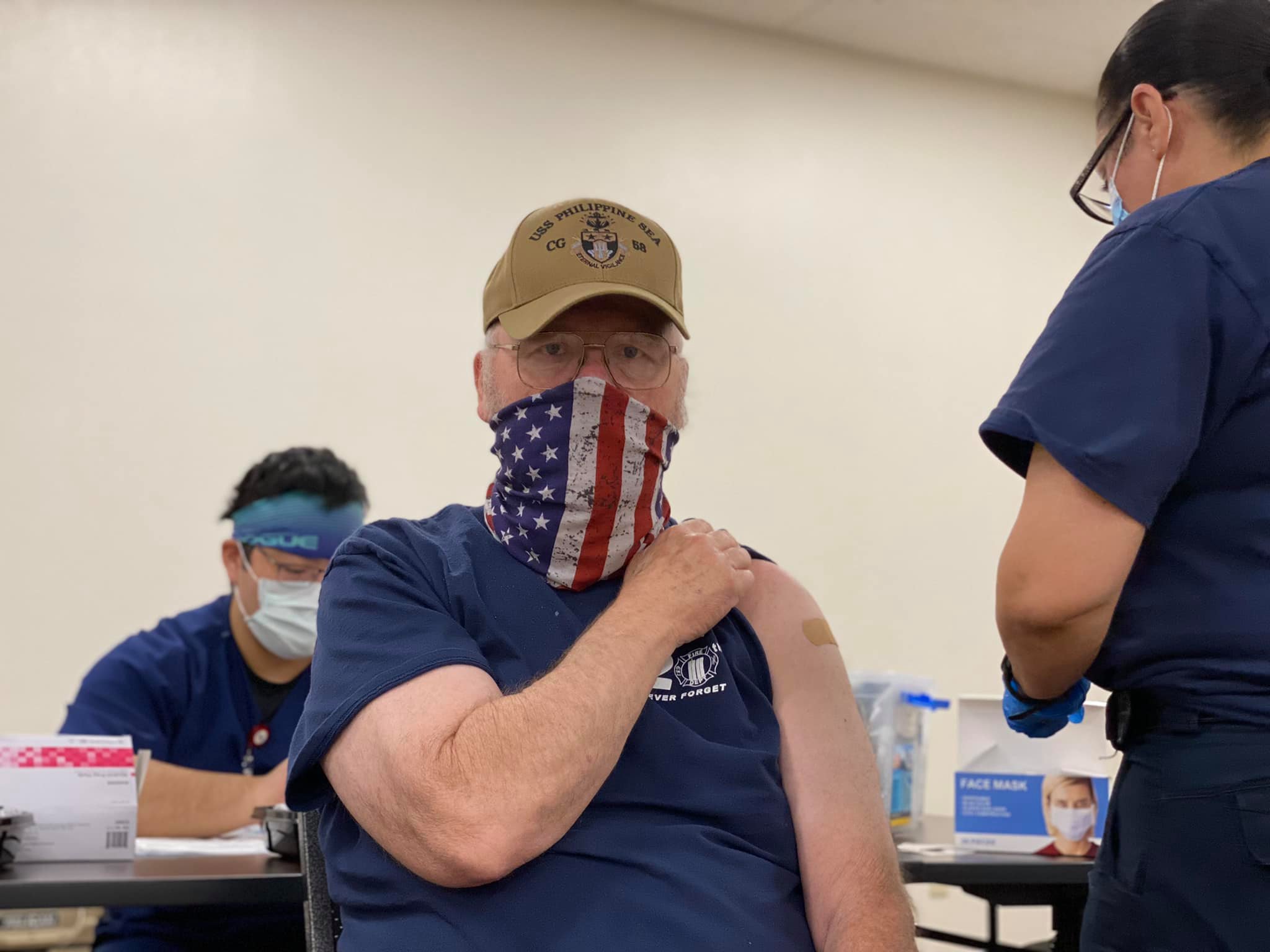 U.S. Navy Veteran Steven Ross works at the SVMC-Imperial Ambulance Community Vaccination Clinic. He recently received his booster and invites the community to consider receiving theirs at the Veterans Day Parade.
Just in Time for the Holidays — Protecting Our Youngest and Oldest Community Members
Protecting our community's youngest and oldest is within our reach. "Finding ways to keep our loved ones safe is an act of kindness," says Sierra View's CEO and President Donna Hefner. "Our willingness, at Sierra View, to find creative ways of keeping our community safe is always rooted in our commitment to our community as a local health care district. But it also comes from the hospital's culture of kindness and compassion," says Hefner. There is no shortage of vaccine supply at the moment in Tulare County. Ramping up community vaccination efforts through partnered events such as the Veterans Day Parade can help prevent an increased surge of COVID-19 cases in the area. As families prepare to come together for holiday celebrations, it is essential to ensure that those eligible to receive the COVID-19 vaccine have access to it. It takes weeks to become fully vaccinated, but beginning the process now is key to helping protect loved ones in the winter. Those eligible to receive a booster dose already have a level of protection from COVID-19 and the booster offers an added level of protection at least six months after receiving a full dose of the COVID-19 vaccine. Adding to the list of those eligible to receive the vaccine, on November 2, 2021, the CDC approved pediatric doses to children 5 - 11 years of age. Starting on Friday, November 12, 2021, the Pfizer-BioNTech COVID-19 vaccine will be available for 5-11 year-olds at the SVMC-Imperial Ambulance Community Vaccination Clinic. To learn more about vaccine safety and eligibility, please visit https://www.cdc.gov/vaccines/covid-19/index.html. For more info about vaccine safety for children, please visit https://www.cdc.gov/media/releases/2021/s1102-PediatricCOVID-19Vaccine.html and speak to a family doctor or provider as needed.
To learn more about vaccination efforts in Porterville, please visit www.sierra-view.com/COVIDvaccines. To explore local and vaccination partnership opportunities, please get in touch with SVMC Marketing & Community Relations Manager Alida Verduzco Silva (AVerduzcoSilva@sierra-view.com).