Second Public Hearing Upcoming to Discuss Adoption of New District Map for Sierra View Local Healthcare District
Sierra View Medical Center (SVMC) continues working through the redistricting process to adopt new boundaries for each of the five district zones that comprise the Sierra View Local Healthcare District (SVLHD) in alignment with the latest census data. The SVLHD Board of Directors plans to consider the proposal of adopting the final district map at the upcoming second public hearing regarding redistricting on Thursday, May 12, 2022.
Final Proposed Map
Following the public comment and community review period for a draft map known as "Scenario C," SVMC now has an updated district map draft known as "Scenario D". "Scenario D" takes into consideration feedback received in the first public comment period and the increase in population in each district zone using data from the latest census. The final proposed map and the current district map are available for review online by visiting www.sierra-view.com/redistricting. The website is bilingual in English and Spanish.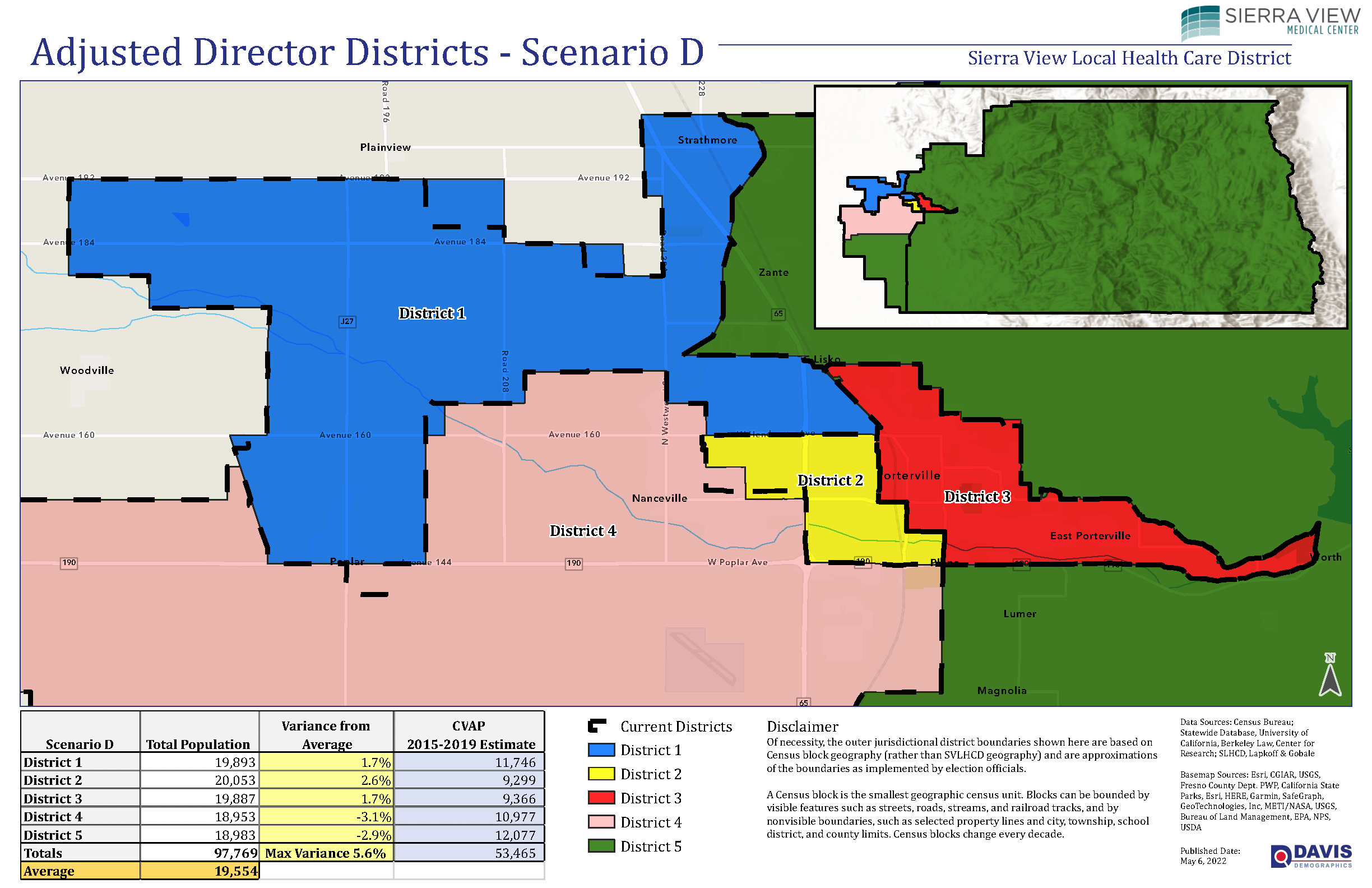 Second Public Hearing (Community Meeting) and Vote by Board to ADopt or Reject the Final Proposed Map
The SVLDH Board of Directors is hosting a board meeting to discuss redistricting and, after hearing from the public, vote on whether to adopt the final proposed map. Community members are welcome to listen in online or in person.
Who: Community Members
What: Redistricting Meeting and Vote by Board on Proposal to Adopt the Final Proposed Map
Where: Online or In Person (SVMC Board Room, 465 W. Putnam Ave., Porterville, CA 93257)
When: Thursday, May 12, 2022 at 6 p.m.
Meeting Link: www.sierra-view.com/redistricting (Please visit website on day of event for event link).
Sierra View Medical Center thanks those who took a moment to provide feedback in relation to the previous version of the draft map for the new district map the SVLHD board will adopt. Community members may submit any questions by emailing marketing@sierra-view.com.