Unveiling of the Sierra View DAISY Foundation Recognition Wall
On May 12, the birthday of Florence Nightingale, the founder of modern nursing and the last day of National Nurses Week (May 6-12), we unveiled the Sierra View DAISY Foundation recognition wall to celebrate our extraordinary nurses. The newly dedicated space will feature each quarterly recipient, as well as the story behind the DAISY Award.
The DAISY Foundation was established in 1999 by the family of J. Patrick Barnes who died of complications of the auto-immune disease Idiopathic Thrombocytopenia Purpura (ITP) at the age of 33. (DAISY is an acronym for diseases attacking the immune system.) During Pat's 8-week hospitalization, his family was awestruck by the care and compassion his nurses provided not only to Pat but to everyone in his family. So one of the goals they set in creating a Foundation in Pat's memory was to recognize extraordinary nurses everywhere who make an enormous difference in the lives of so many people by the super-human work they do every day.
Nurses are nominated by patients, family members, other nurses, physicians, clinicians and staff at healthcare facilities and schools of nursing in all 50 states and 21 other countries.
During the May 12, 2022 unveiling, SVMC's Chief Nursing Officer, Dr. Jeffery Hudson-Covolo, DNP, RN, NEA-BC, FACHE, surrounded by the recipient's unit team members and other nursing leadership, named the first nurse leader to receive the DAISY Award at SVMC.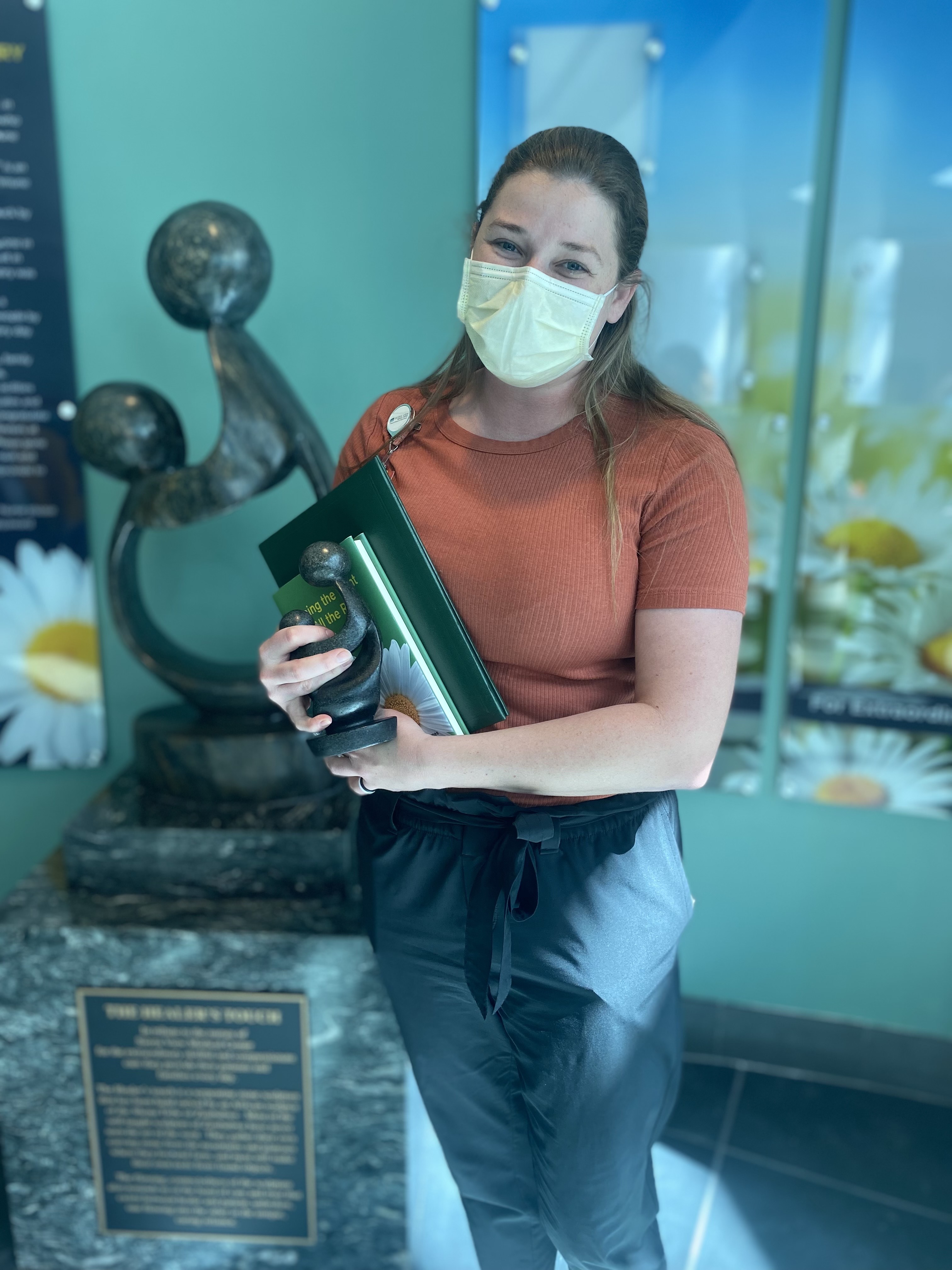 "Today, we're recognizing a nursing leader who has gone above and beyond, especially in the last two years," said Dr. Hudson-Covolo. "This is someone who is steady and keeps calm in adverse situations; is open to learning; and quick to create change even when that change is at times not welcome. This individual not only had to manage and organize their unit, but collaborated with other departments and formed working relationships with people who don't normally work alongside each other."

The first SVMC nurse leader to receive the DAISY Award is Clinical Manager of Critical Care Services, Hannah Lam, MSN, RN,CCRN. Congratulations Hannah! What a special moment to be recognized! After today, the wall will remain as a statement piece for those entering Sierra View Medical Center and will honor the most recent DAISY Award winners at Sierra View Medical Center that have gone above and beyond their clinical skill and compassion that they naturally provide to patients and families.
To Nominate an Extraordinary Nurse, please visit www.sierra-view.com/daisyaward