SVMC Employee Evidenced-Based Project Displayed & Presented at California State University, Fresno
Congratulations to the Sierra View Medical Center (SVMC) Vizient/AACN Nurse Residency Program, from Cohort 8 for presenting their evidence-based practice (EBP) project, "Slow the Burn (out)" at the 36th Annual Nursing Research Conference - Present and Future of Nursing Research. This event was sponsored by and held at California State University, Fresno.
Christine Williams MSN, RN, CCRN, PHN - Nurse Residency Program Coordinator believed that this particular EBP project should be showcased to a broader local audience and submitted the abstract and initiative and was pleased that it was selected. "It is quite an honor for these nurses to be able to present their EBP project to several of their peers and faculty staff, especially here in the Central California area," said Christine Williams, MSN, RN, CCRN, PHN.

The two main objectives of the presentation were to:
1. Explain how the implementation of a specific nursing mobile app. is used to reduce nurse burnout
2. List the benefits of applying new technologies (ex. QR Code) with the increase utilization of resources available to staff, in reducing nurse burnout.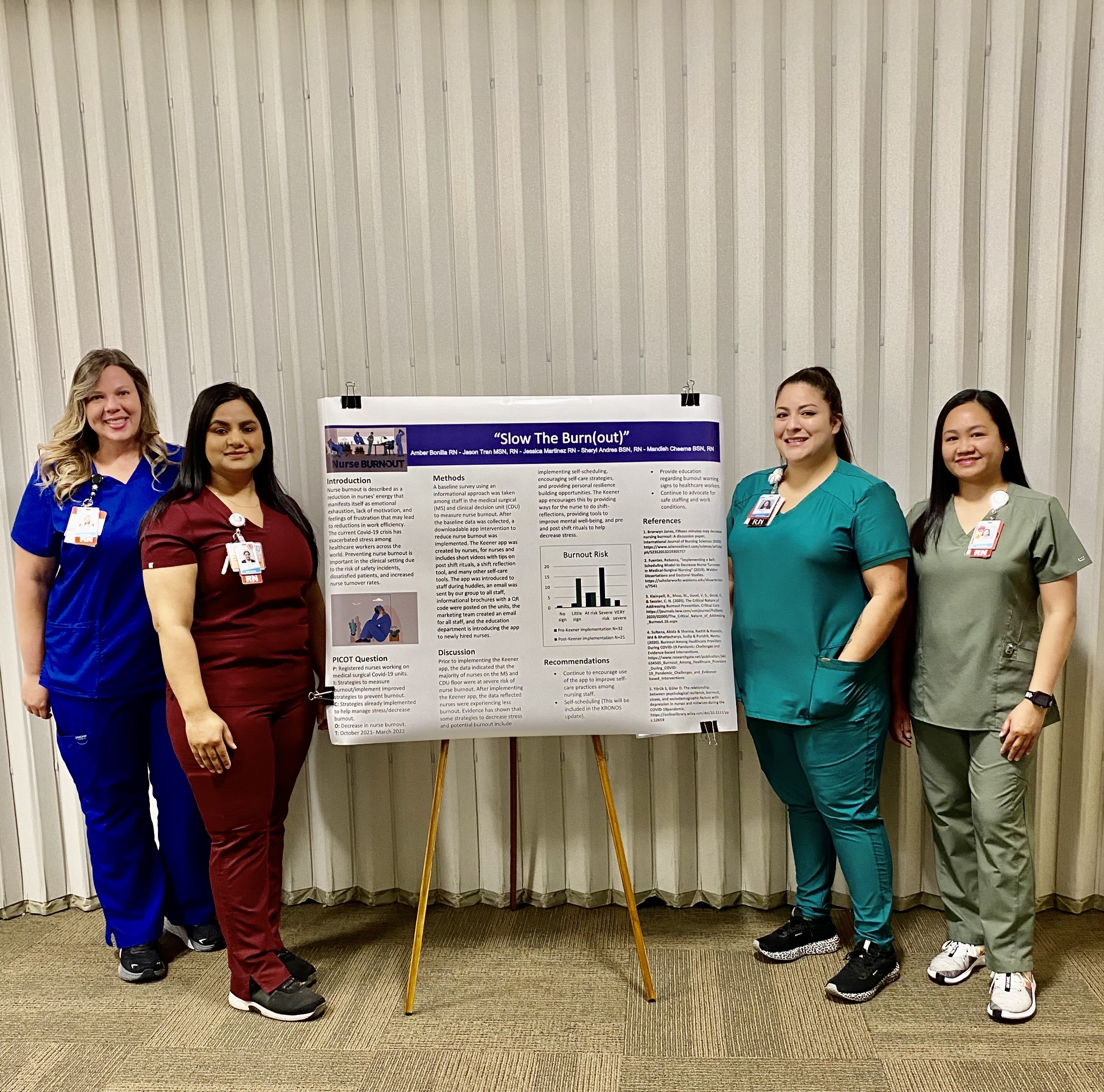 Two of the nurses, presenting the group's work at the conference were, Jessica Martinez, RN and Amber Bonilla, RN. Both are now currently working in the PACU here at SVMC. Two more team members from the Med-Surg unit, Mandish Cheema, BSN, RN and Sheryl Andres BSN, RN, who are integral members of this EBP project, were able to come together, as a whole, to be recognized for their outstanding accomplishment.
This project was completed and implemented during an intense and challenging time during the Covid-19 Pandemic, 2021-2022. Brandy Irwin MSN, RNC, PHN - Director of Acute Care & Nursing Excellence supported and assisted these four nurses with this project, which was then disseminated house-wide and is included in new hire orientation (NHO).
Thank you team for all you do as you truly make a difference every day, here at SVMC.