Urology Clinic Shines During Urology Month
Sierra View Medical Center is kicking off the month of celebrating world-class expertise and cutting-edge urologic treatments in the heart of Tulare County. For Sierra View Medical Center Urology Clinic, in alliance with Keck Medicine of USC, September is about raising awareness for urological health and celebrating advancements in urology.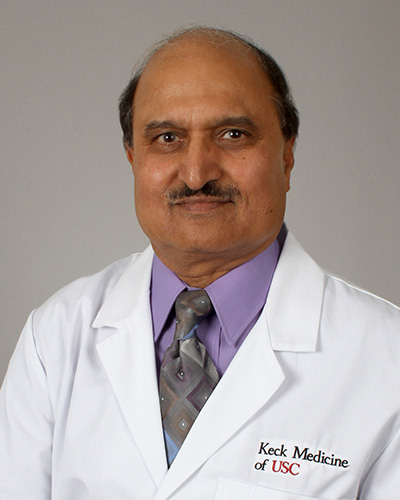 Dr. Virinder Bhardwaj, the Medical Director of the SVMC Urology Clinic, expresses his continued vision of the unwavering commitment of Sierra View Medical Center and Keck Medicine of USC to prioritize the well-being of the community: "My philosophy is to provide the best possible care to patients throughout the Central Valley," Dr. Bhardwaj stated. "Each patient represents a story of care, dedication, and support, showcasing the positive impact this partnership has on people's lives. We plan to continue to provide the best care to the populous of the Central Valley while being in partnership with USC's Urology Department."  
Established in response to high rates of urologic conditions in Porterville and the surrounding community,  SVMC Urology has provided specialty urology services since November 2015. The USC Urology Clinic providers practicing at SVMC are an integral part of this exceptional program, known for its transformative impact on the lives of patients facing complex urologic conditions. Practicing Practicing Physicians at the clinic include Dr. Virinder Bhardwaj, Dr. Inderbir Gill, Dr. Gerhard Fuchs, Dr. David Ginsberg, and Daniel Park, PA. 
A Year of Success   
In the fiscal year ending in June 2023, Sierra View Medical Center's Urology Clinic marked an impressive milestone by serving a total of 4,241 patients, highlighting its commitment to meeting the urological needs of the community. The clinic's dedication to patient-centered care is evident in the 157 procedures and surgeries conducted during the same period.    
One of the notable accomplishments is the introduction of Urodynamic Studies in Fall 2022. Urodynamic Studies focus on assessing bladder functions, and addressing issues such as poor bladder control, frequent and urgent urination, painful urination, and recurrent bladder infections. With a total of 44 Urodynamic Studies performed during Fiscal Year 2023, the clinic has showcased its proactive approach to addressing bladder-related concerns.   
Among the clinic's achievements, Cystoscopy stands out as a crucial diagnostic and treatment tool. With 297 Cystoscopies conducted in Fiscal Year 2023, the clinic remains steadfast in its commitment to identifying and addressing urinary tract problems such as bladder cancer, bladder control issues, enlarged prostates, and urinary tract complications. A central focus of SVMC's Urology Clinic is the detection and management of bladder stones, showcasing the clinic's dedication to comprehensive urological care.   
Urology Care Close to Home   
"Sierra View Medical Center is proud to celebrate Urology Month by highlighting our commitment to patient well-being and innovation in urological procedures," said Donna Hefner, CEO and President of Sierra View Medical Center "Our collaboration with Keck Medicine of USC allows us to deliver top-notch care, and the remarkable figures from 2023 reflect our dedication to excellence."   
As Urology Month unfolds, Sierra View Medical Center's Urology Clinic stands as a testament to exceptional patient care, innovative procedures, and the power of collaboration with USC's Urology program. To view a complete list of services at the Sierra View Medical Center Urology Clinic in alliance with Keck Medicine of USC or to make an appointment, please visit sierra-view.com/urology.